Posted by Royce Young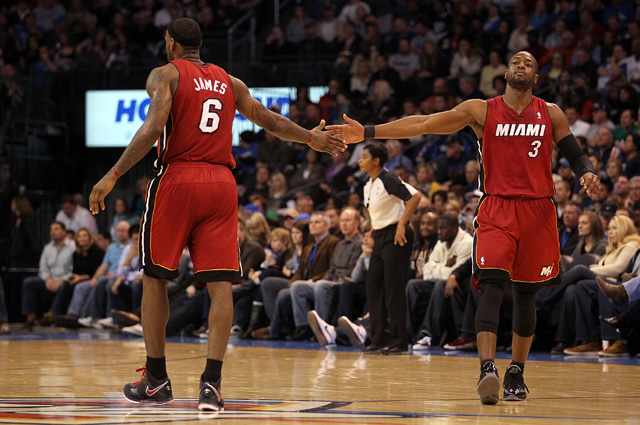 Chemistry is overrated. Or it's underrated. A lot of people have a lot of different opinions on it. But it's hard to ignore that good chemistry means
something
on the basketball court.
I don't think anyone would deny that at times, the Miami
Heat
's chemistry last season was pretty rough. And we should've all seen it coming. At the beginning of the season when any of the three stars were asked who would get the ball in late game situations, they'd said, "Whoever's hottest." Which is most definitely the incorrect answer.
But it was Season 1 of a five season TV show in Miami. Those 82 games were the first 82 those three had really played together. And chemistry doesn't happen overnight. It's not like dating. Learning to play five-as-one on the court takes some time. The more reps you get, the better feel for each other there is.
Which is probably why
Dwyane Wade
feels like the team has figured it all out.
He told ESPN Radio, via the Sun Sentinel
:
"We figured it out. I think we did a very good job," Wade said during an appearance on ESPN Radio, as he promoted his charity event this weekend in his native Chicago. "It didn't hurt. LeBron was still third in the league in scoring. I was still like fifth in the league in scoring."

[…]

"It really didn't change much of our ability once we got comfortable," Wade said. "Me and him are very good friends. We're two guys who want to make it work, who wanted to make it work for our teammates to be successful, so we did."
Figured it out, he says. And I can see why he'd think that. Both he and LeBron finished in the top five in scoring (Wade was actually fourth), the team won a bunch of regular season games and lost in six games in the NBA Finals. By all appearances, there's reason to feel like they had started to get a feel for each other.
But that's missing the point. Because I don't know even know what Wade means when he says they "figured it out." Yeah they won a bunch of games and almost a championship, but I'm not entirely sure a lot changed from when they were just swapping turns late in games and coming up short in tight contests. All that changed really in the postseason was that a lot of those shots went in. I mean, LeBron shot close to 50 percent from three before The Finals.
The Heat mostly won last season because they could overwhelm teams with their talent. Against lesser foes, they dominated. But against premium opponents, there was a reason they struggled. Because that chemistry, that understanding of how to play together, wasn't really there. They faked us out in the Eastern playoffs because they were making shots. Nothing had really changed though.
This isn't to say they can't or won't actually get there. But for Wade to just say they have seems very premature. It's not about taking turns or going with the supposed hot hand. It's about playing quality team basketball. It's about involving
Chris Bosh
in every set. It's about utilizing
Mike Miller
and
Udonis Haslem
is late-game sets other than just kicking out to them while the shot clock runs down. That's figuring it out. That's the kind of chemistry that Walter White would approve of.
We know LeBron and Wade are all-world players and scorers. And that's the reason I know that Wade's wrong. If they truly have figured it out, then it's all over. You can't beat a team with that much talent if they actually get it.