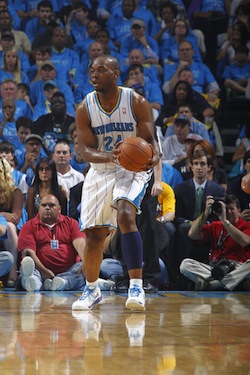 By Matt Moore
Earlier this month,
Carl Landry
said that he saw himself as a good fit in Portland. It was odd considering they currently have
LaMarcus Aldridge
on roster and Landry is a power forward who struggles with rebounding. He's got great scoring instincts and work ethic though, making him one of the better free agents when the market opens.
Turns out someone with the Blazers thinks the same way. SLAM Online spoke to LaMarcus Aldridge and it turns out Aldridge thinks Landry would be a good fit as well. From SLAM:
"That's big of him to speak out and I'm glad he spoke out and said he wants to play with us," Aldridge told SLAMonline. "He's a good player and I definitely feel like he can help us immediately."

"Landry's a really good player and good players know how to fit in," Aldridge said. "Wouldn't be a problem at all."
via
SLAM ONLINE | » Aldridge Signs Off on Landry
.
The problem? Let's pretend for a moment that the new CBA at least keeps things within scale. So either the Blazers are in the same position, cap-space-wise, or the contracts are scaled back proportionally. Let's take three contracts for next season, outside of their best player, LMA.
Brandon Roy
,
Marcus Camby
,
Gerald Wallace
. That's nearly $37.5 million.
Wesley Matthews
is $6.1 million. In short, finding room for a back-up role player who will likely draw a better contract, even under a new CBA within a weaker free agency class than the last time he struck out might be tough for Portland.
With the Blazers still trying to figure out a plan in terms of their organization, making a major move like Landry might be a longshot. But if it's made, Aldridge is out in front to quell any talk of issues with the should-be-All-Star.
Here's a question? Who on earth is going to play power forward in New Orleans next year?