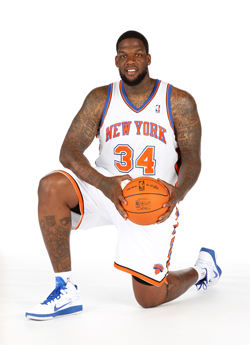 Matt Moore
Another, ahem, big name has joined the
Team Melo vs. Goodman League exhibition
scheduled for Tuesday, according to Hoopsworld. Alex Kennedy reports that Eddy Curry
is set to join the superstar team
of
Chris Paul
,
LeBron James
, and
Carmelo Anthony
, along with others. He'll be matched up against
DeMarcus Cousins
in what can only be described as an odd contrast at center.
Curry
has lost nearly 100 lbs
. in the last six months after being traded from New York to Minnesota and then released as he works out with famed trainer Tim Grover.
He's worked out
for the
Heat
multiple times as they continue to look for viable options at center. Playing and spending time with James is a great way to cement that opportunity as getting James in his corner pretty much solidifies his chances at getting a contract.
It's an odd addition, but it'll also provide fans with an idea of how far along Curry is with his conditioning and retraining of his body after losing all that weight. Matched up against shorter, but more bullish DeMarcus Cousins provides a good testing match. Meanwhile, he'll have as much help offensively as he can handle with Chris Paul, Anthony, and James. James
is no longer a question
as he confirmed to the AP he'll be playing. With
Kevin Durant
also playing for Goodman alongside
Brandon Jennings
, this is a pretty loaded set of superstars on one floor, bigger even than the Goodman-Drew matchup earlier in August.
Now if only someone could drag Kobe down to this thing...