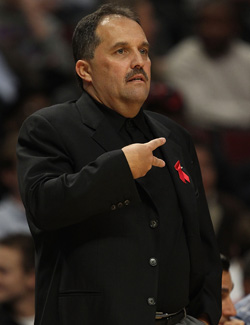 By Matt Moore
Stan Van Gundy is not afraid to speak his mind. He's not bombastic or a braggard, he just has his opinions and would be happy to share them with you. His pragmatism and basic viewpoints actually harken back to Red Auerbach, in a way. Van Gundy was at the University of Miami this past weekend, dropping his daughter off for school, and was asked about the ongoing scandal there. Let's just say Van Gundy didn't exactly hold back. From the
Miami Herald
:
"The system is set up for everybody but the kids while pretending to be about the kids," Van Gundy said. "Athletics and education should be separate. Colleges shouldn't be farm systems. It doesn't make any logical sense. But the schools don't want to be blatantly in the situation of being professional sports even though they already are professional sports. They just want to disguise it, so they hide behind education. But, really, all you want is enough of your athletes to graduate so it looks like that's what you care about. Anyone around sports knows it is all a bunch of bull [expletive].

"I am not calling college coaches or administrators hypocrites. I believe that, in general, they care about the kids and education. But the system is wrong. Being a farm system creates problems that are beyond the control of even the best and most well-meaning administrators of which [UM's] Donna Shalala would be at the top of my list."
via
University of Miami scandal brings out hypocrisy on campuses - Dan Le Batard - MiamiHerald.com
.
Well, then. Don't hold back, SVG. Really let your feelings out. It's good to see Van Gundy taking a stand on the issue instead of deferring since it's part of the traditional basketball system. What gets overlooked in all the discussion is the fact that much of what goes on is exploitation. The reaction is to say they can't be exploited, they're getting a college education. But you can be exploited while still getting something in return, and in this case, an education that is barely existant in some cases and largely useless in a great deal of them doesn't exactly make things equal. But wait, there's more from Van Gundy. He's actually got a proposal for a solution.
"Let the schools decide whom they enroll and how — no entrance or eligibility requirements, how much the boosters want to pay them and whether or not they go to class," he says. "There are two rules. You play only four seasons, and the upper age limit is 25. No other rules. Players who are paid must declare their income and pay taxes on it. If they don't and get caught, then they have to deal with the IRS and instead of giving back the Heisman they risk going to jail. This drops the myth about amateurism and education. It allows players to get paid but puts it out in the open. Now people can stop hiding behind their idealism about the purity of college athletics and let you know what the school and alumni truly value. NCAA enforcement is the drug war. We've lost. Let's find a different, more realistic approach."
In essence, Van Gundy wants to call a spade a spade, which is pretty reasonable. The NBA is a lot of things, but it doesn't try and pretend to be something moral. It's a business at its core, and it acts accordingly. Look no further than the lockout for proof on that.
Maybe if we start talking about the issues within the context of reality and not the moral ideal that isn't even ideal for most of the people involved in it, we can start to move towards some solutions. Call it the Calipari-Van Gundy approach.
Half of you just started vomiting, didn't you?