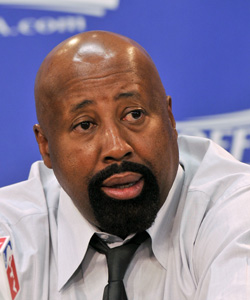 By Matt Moore
It's
been coming for quite some time
, and now the
Knicks
made it official. The Knicks announced Monday that they have hired former Atlanta
Hawks
head coach Mike Woodson as an assistant coach.
Woodson's playing career actually started with the Knicks as he was drafted 12th by them in the 1980 NBA Draft. He joins the Knicks as a defensive assistant to help shore up the Knicks' porous D. The question will be whether the personnel is there to make an impact, as Ken Berger recently questioned. Unfortunately, the thing that would help the Knicks defensively the most is to get different habits out of
Amar'e Stoudemire
, but at his age, it's difficult to see him becoming a dramatically different or better defender at the rim or in the post. Stoudemire's help defense is actually surprisingly good, but man-up he struggles considerably, whether due to skill, effort, or energy conserved for the offensive end.
There's a certain level of irony that between
Joe Johnson
who was a free agent in 2010 and Woodson, it's Woodson who was the first one to end up in New York with the Knicks.