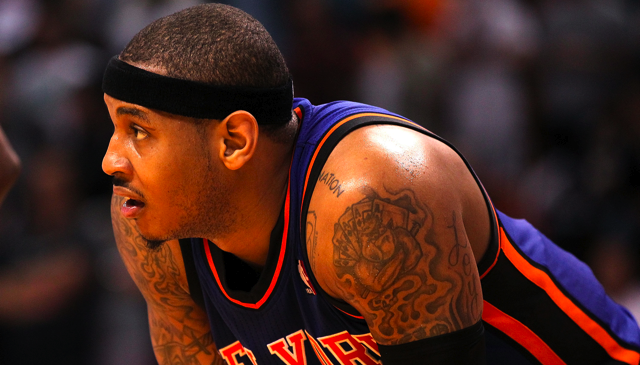 By Matt Moore
Trades are the lifeblood of the NBA. Yes, Miami was able to become an instant contender with its smorgasbord last summer, but that's what made it so rare. In reality, teams have their foundations built in the draft, then augmented through trade. The best way to improve your team, your payroll, your future, your organization, is through a shrewd trade.
It's also what drives a ridiculous amount of fan interest. Trade rumors do big business and though they're the scourge of coaches, GMs, pragmatic fans and cynical critics, they most often come from somewhere. But what's more important is that they deliver hope. Your team terrible and stuck in a rut? One good trade and they're back in business, baby. Look at the Charlotte
Bobcats
, who went from a nightmarish wreck of a franchise to an up and coming team stocked with young players. The
Celtics
were languishing with only having won 17 championships before 2007 came and Danny Ainge pulled off the best trade season in the past twenty years.
Trades give GMs wiggle room. They give owners the ability to correct bad decisions. They give fans something to hope for. And they give players second chances.
And the entire market could come falling to the ground in a flaming heap if the new CBA is structured as the owners are pushing for.
On Monday, the Seahawks and Bengals completed a trade sending Seattle CB Kelly Jenkins for DT Clinton McDonald. It was a rare exception to the norm in the NFL which is that trades are almost always a one-for-one ordeal and very rarely happen. The NHL may be a better comparison though. Trades are more commonplace in the NHL due to the way the sport's structured and the nature of contracts. And since the NHL lockout, there are still a great number of trades that occur nearly daily. But almost all of them involve only one-for-one deals, or deals for draft picks. There have been three multi-player deals in the NHL this offseason, which may seem like a fair amount, but considering the amount of roster movement, there's still a slower function of trades than we're used to seeing in the NBA.
A hard cap would limit team's abilities to move those players significantly. For starters, the hard cap removes any wiggle room for teams to get traded players added to their roster with exceptions and the like. It likely means teams committing more money to their stars and less money to their veteran players. The problem? Moving players making star money then becomes more of an issue in terms of moving one-for-one. And star players don't move easy.
From there the concern becomes a matter of re-defining value in a new hard cap era. The gap between stars and roleplayers becomes greater, the flexibility of moving players is impacted. If the gap between a great role player, say,
Glen Davis
is lowered and becomes closer to that of say, Mo Evans, instead of making it easier to move those types of players, there's a confusion surrounding what their actual value on the market is. If trades begin to be expressed more for draft picks, the relative value needs to be determined.
All this could be incredibly bad for several entities in the NBA. It means a harder climb back to contention for teams in the gutter, as their only real options are now the draft or free agency. The small market teams are the ones fighting hardest for a hard cap to keep their costs down. But if their free agents are leaving to pursue bigger markets, and they can't trade to get better assets, all this does is strengthen the divide between them and the large market teams. The ability to trade assets is how smart teams get around market divides. Even large market teams benefit from circumventing the free agency race. Consider Dallas, who acquired four of their starters,
Jason Kidd
,
Caron Butler
,
Tyson Chandler
, and technically,
Shawn Marion
, in trade. In a system with limited trade options, the
Mavericks
would simply be trying to win with the same core. That's the definition of insanity.
But there's a flip side to this. The reason these questions haven't been asked is because there's no telling what the effect of the cap would be on trades. There would still have to be trades at some level, the makeup of the game itself demands it. And to keep them in play, there may be changes to the core structure of a hard cap proposal. The worst thing the NBA could do is rush into a hard cap only to discover that while it solves all of the financial issues, it makes the game worse.
Trades won't stop in the NBA. But the blockbuster, multi-team, multi-player trades that have come to define each February and draft night for fans could be a thing of the past if a hard cap is introduced, as the movement within the league becomes more stagnant and difficult to manage. And for teams who have committed money to marginal stars and were looking to clear the books with an expiring-contract trade, that could have long-term effects for the future.