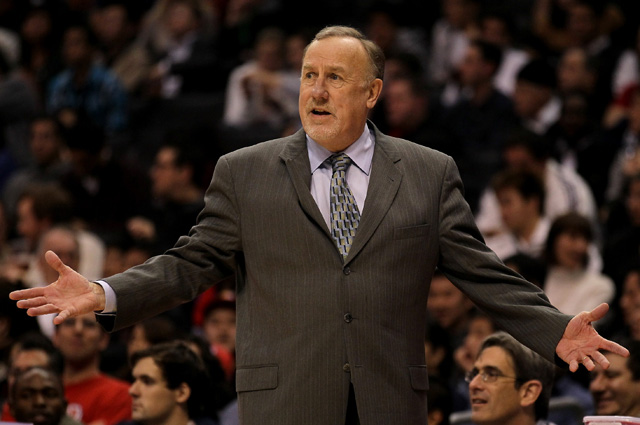 By Matt Moore
Second interviews are always kind of a big deal. The first one is like a blind date, really. Seeing a resume is the equivalent of a friend telling you "Yes, he/she is human and yes, he/she has all his/her facial parts." But a second interview means there's something there and you're looking to see if things could actually go somewhere. Usually it's the applicant trying really hard to seal the deal and beat out the other potential employees. But in the case of Rick Adelman and the Minnesota
Timberwolves
, it's the team trying to convince the coach not to take a year off and instead to come coach a team that has been an abject trainwreck since KG left.
From ESPN:
Rick Adelman is returning to Minneapolis on Tuesday to meet with Timberwolves owner Glen Taylor about the team's coaching vacancy, according to a league source.

Two people with knowledge of the situation told The Associated Press on Aug. 24 that Adelman had met with Taylor during his first interview in Minneapolis, but the league source said Monday that Taylor's health issues kept the two from talking face to face.

....

Sources say that Adelman's family remained at his offseason home in Portland, Oregon, for much of his four seasons in Houston and another relocation or separation is a factor in Adelman's thinking.
via
Rick Adelman, Minnesota Timberwolves owner set to meet face to face - ESPN
.
Every indication is that the Wolves would love to have Adelman, they've already reportedly agreed to a general price range for his services. It's just a matter of convincing the former
Rockets
head coach not to take a year off to spend with his family. Which can be a hard sell. That's why Taylor himself is meeting with Adelman again.
Also notable are the health issues mentioned here, which haven't been reported elsewhere. Taylor is known to be a major player on the labor committee for the NBA Board of Governors. Peter Holt has taken the lead in most of the negotiations as the owners' representative, but Taylor's condition is certainly something to watch as the NBA tries to get a deal with the players (or tried to force them to submit, depending on your interpretation).
Adelman has a prior relationship with
Kevin Love
, which would make getting the young All-Star back on board the Timberwolf Train a lot easier (Love has made repeated comments about free agency and the questionable direction of the Wolves). Adelman has had success with speedy point guards facilitating a transition game, so
Ricky Rubio
would likely benefit from his direction. And
Derrick Williams
would probably enjoy some of the tutelage Adelman gave Chris Webber in Sacramento. In short, this would not only be the best fit for the Wolves, it would swing a lot of opinion on where the team is headed.