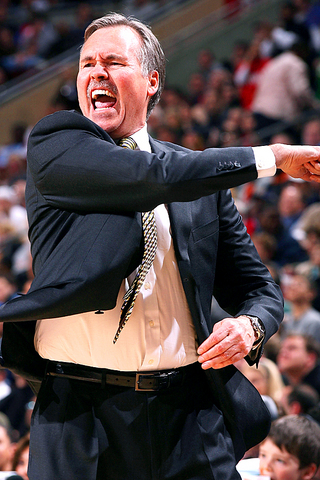 Posted by Royce Young
Just because the
Knicks
hired Mike Woodson doesn't really mean anything. Yeah, it kind of has a look to it, that maybe the Knicks could be gearing up to have a quality interim coach for the remainder of the season if things go south with Mike D'Antoni.
It definitely has kind of an awkward appearance. But D'Antoni is completely fine with everything. Even his potentially "lame duck" status as head coach.
"I'm OK with that,"
D'Antoni told the New York Daily News
. "All coaches are on a one-year deal. It's just whether you get a paid vacation. We have to produce. Every coach in the NBA has to produce. That's the way it is here."
An interesting note from the Daily News though: D'Antoni evidently isn't in the good graces of owner James Dolan so much anymore.
According to a team source, D'Antoni's relationship with Dolan isn't as close as it once was and the coach lost his closest ally when Donnie Walsh stepped down as team president in early June.
D'Antoni basically had his hand forced to alter his assistant coaching staff. He was pretty much instructed to hire a defensive coach and therefore, enter Mike Woodson.
Here's something that will help D'Antoni though: win. That's all you have to do. Start winning games, get to the postseason and play well there. D'Antoni's entering his third season at the helm of the Knicks and in terms of New York time, that's a long while. But he's really done a solid job. He had to recover from a massive trade that turned over almost half his roster and then figure out on the fly how to integrate
Amar'e Stoudemire
with
Carmelo Anthony
.
The sweep by the
Celtics
was ugly and definitely put more pressure on him, but give D'Antoni a little credit. It's been a rough situation. That roster isn't good enough to just win on it's own quite yet.
Doesn't matter though. It's high stakes stuff in New York and Dolan's not going to want to wait around. Maybe Woodson's there to just coach up the defense or maybe he's there as a mid-season replacement. Whatever the case, if the Knicks can get to winning a little, it won't matter.