Posted by Ben Golliver.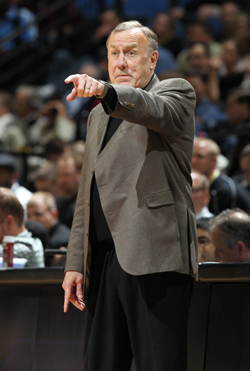 Just when the interminable "Rick Adelman to coach the Minnesota
Timberwolves
" movie seemed to finally be approaching its climax, the projector stopped working, the lights turned on and everyone went home grumpy.
On Monday, we noted
thad Adelman, the longtime NBA head coach, was set to meet with Timberwolves owner Glen Taylor this week following days of rumors and speculation that he would be selected as the team's next head coach.
ESPN.com reported Tuesday
that Adelman and Taylor did meet as planned but that there still isn't a clear path towards a conjoined future between coach and organization.
Rick Adelman met with Minnesota Timberwolves owner Glen Taylor on Tuesday as planned but returned to his offseason home in Portland, Ore., without an offer to be the Timberwolves' next head coach or a promise that one would be forthcoming, a source familiar with the talks said.


This was Adelman's second trip to Minneapolis in as many weeks to explore the possibility of him succeeding Kurt Rambis, who was fired in July. Adelman visited last week but did not meet with Taylor because the 70-year-old owner was not feeling well, a league source said.
This news comes after reports that Adelman and the Timberwolves had broached the topic of
a pay range
and that Adelman had
put out feelers
to fill out his coaching staff.
So where does this leave the coaching search?
Not quite at square one, seeing as the Timberwolves have interviewed an estimated 4,535,976 candidates besides Adelman and because Adelman himself could still be in the picture. No immediate job offer doesn't necessarily mean no job offer down the road.
Adelman has reportedly emerged as the favorite and his hire would be a coup for the Timberwolves, who need a steady, tested hand to nurture their young roster and to reestablish the credibility of the organization. After winning just 32 combined games in the last two seasons, Minnesota is desperate. They should bend over backwards and wait until the cows come home if it means landing a coach with the playoff track record that Adelman possesses.
The biggest hang up appears to be Adelman's age, 65, and his reported desire to spend more time with his family or to take on a management role rather than go through the coaching grind again. Perhaps the possiblity of a delayed or canceled season would ease those concerns?
The Timberwolves' coaching search has now lasted more than six weeks after
the team fired
former coach Kurt Rambis in July. Portland
Trail Blazers
assistant coach Bernie Bickerstaff, Blazers sideline reporter Terry Porter and former NBA head coaches Don Nelson, Larry Brown and Sam Mitchell have all been interviewed for the position.