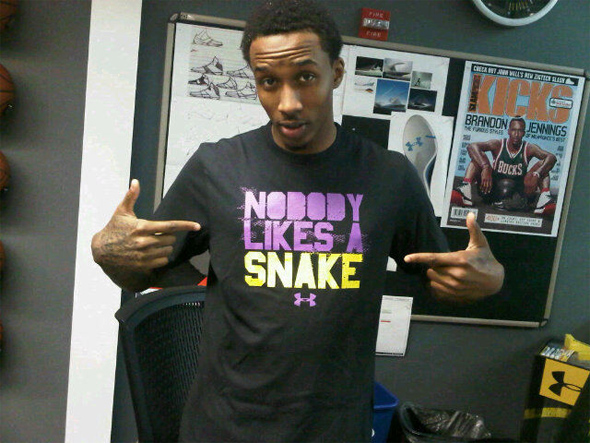 By Matt Moore
Don't ask us why, because it seems like the worst idea ever, to us.
Brandon Jennings
really wants to start some sort of feud with
Kobe Bryant
.
It started about a month ago. Jennings posted the picture above on Twitter of himself in a t-shirt that read "nobody likes a snake," referencing Bryant's "Black Mamba" nickname of course. Jennings also made a comment about Bryant dropping 45 and
saying he needed to play wherever Bryant was playing next
.
Then Jennings
backed off
in
an interview with HoopsHype
, saying it was just a joke and that Kobe was the best player in the world. OK, then. No harm done, young fella.
Except on Monday,
ESPN spoke with Jennings
who said said Bryant shouldn't play for the L.A.-based Drew League in thei rematch against Goodman League, or any of the other organized exhibitions, because Bryant didn't grow up in L.A.
Brandon Jennings on Kobe: "He wasnt born and raised in LA. You gotta be from LA to play for Drew. Show me a birth certificate."
via
Twitter / @thechrispalmer: Brandon Jennings on Kobe: ...
.
Jennings
defended the statement on Twitter later
. He's not backing down from the assertion of determining who should and who should not play for Drew League. He was adamant that he's not saying Bryant
shouldn't play in Drew
, just not for them in any organized competition. Far be it from me to weigh in on who should and should not play in the streetball organizations' exhibitions, it just seems notable that a third-year player who regressed last season is calling out a Hall of Famer with five championship rings. But he's right, Bryant wasn't born in L.A.. In fact, if we're going there, Bryant's more suitable to play for Italy's Eurobasket team than any team stateside, outside of maybe a Philadelphia team.
Needless to say, Brandon Jennings is taking this summer by the horns, and that brash attitude he's been known for is in full flight. We'll see if he can back it up with his play from here on out.