Posted by Ben Golliver.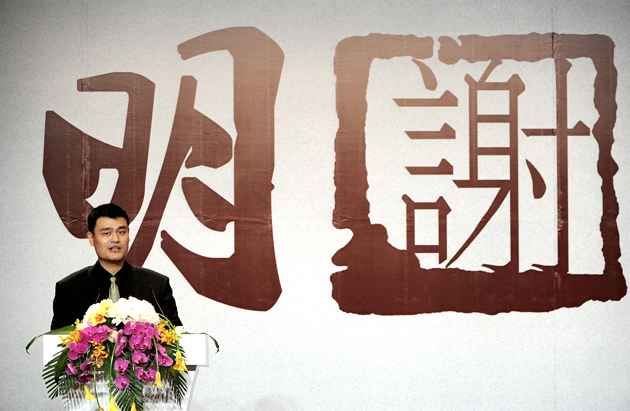 Only one person is standing between Yao Ming and the Naismith Basketball Hall of Fame Class of 2012. That person is Yao Ming himself.
Shortly after Yao
retired from the NBA
due to ongoing injury issues earlier this summer, word surfaced that representatives of the Chinese Basketball Association wanted to
fast-track his nomination
to the Hall of Fame, nominating him as a contributor to the game rather than as a player and thereby allowing him to bypass the standard five-year waiting period. If successful, Yao would have been inducted next summer.
MyFoxHouston.com reports
that Yao believes that plan is "inappropriate" and would rather let some time pass.
A representative of former Houston Rockets center Yao Ming informed the Naismith Memorial Basketball Hall of Fame Wednesday that Yao feels it is premature for him to be on the ballot for the Hall of Fame in 2012.

"Yao believes it is inappropriate for him to be considered for induction to the Hall of Fame at this time," said John Huizinga, Yao's agent, in an interview with FOX 26 Sports.
The Associated Press adds a few additional details from the Hall of Fame's CEO John Doleva.
"[Yao's agent] indicated that Yao has great respect for the institution and equal respect for those elected before his consideration," Doleva said in a phone interview. "He just feels that it's too soon to be considered as a contributor."

"I got the feeling that he and his people have thought long and hard about this," Doleva said. "I appreciated the fact that he referenced his respect for the institution, especially for those who've been elected."
Well, that's typical Yao, pure class through and through.
There's no question that he will eventually enter the Hall, but there's also no rush either. If Yao is uncomfortable with the attention or questions that would accompany a fast-track nomination or if he simply wants to be treated on the same level as the other players that came before him or played alongside him, that is totally understandable. The last thing you want entering an immortal place like the Hall is someone trying to float an asterick next to your name.

Further, an induction to the Hall of Fame is meant to be a reflective exercise, and it's difficult to look back with perspective without a significant amount of time passing. An extra two, three or four years would only make the occasion that much more memorable.

Over eight NBA seasons, Yao averaged 19.0 points, 9.2 rebounds and 1.9 blocks per game. His credentials for induction as a player are questionable, but his key role in the globalization of basketball makes him a lock for induction as a contributor. The only question now is when.

Hat tip: SlamOnline.com