Posted by Royce Young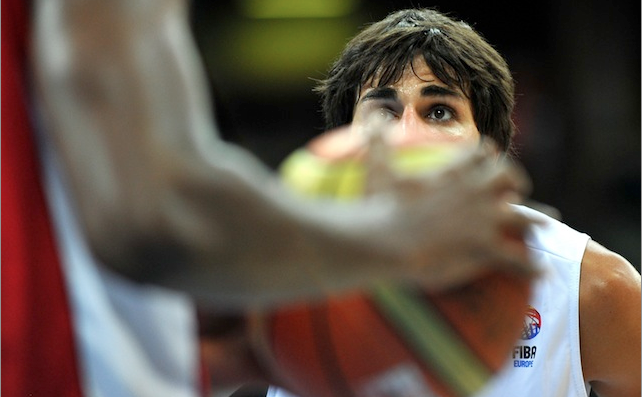 Get excited
Timberwolves
fans, floppy-haired savior
Ricky Rubio
is playing basketball for Spain in EuroBasket and you can watch him.
Though I'm not sure you'll want to.
In Spain's first game, a surprisingly close 83-78 win over Poland (
Pau Gasol
led the way with 29 points), Rubio played 16 minutes. Except looking at his line following the "16," you might not think he did. He darn near put up a 16 trillion if only he hadn't recorded two steals.
Rubio's official line
: zero points, zero assists, zero rebounds, 0-5 from the field and two turnovers.
Not to rag too much on Rubio because he's still just 20 and is playing behind
Jose Calderon
(sort of) and with Pau and Mark Gasol handling almost everything, all he has to do is kind of just stay out of the way.
But still. For a guy viewed as sort of an answer to Minnesota's problems, it wasn't a strong showing. Especially disappointing too because a lot of people are probably paying attention to EuroBasket just for the fact Rubio is playing. He's sort of been a mystery since the Wolves drafted him with the fifth pick in 2009 and despite a couple international games last year in the World Championships, we haven't seen him much with or against NBA players.
And in his first game, donuts across the board.
Maybe it was nerves or something. He missed a wide open layup late in the game and didn't factor in much at all anywhere else during it. By no means is this one EuroBasket game against Poland an indictment on his pending NBA career, but it is another mark that people will notice. Those marks have been piling up on Rubio over the past few years once his hype reached its crescendo during the 2008 Olympic Games. Since then, his critics have been plenty and his performance spotty.
He's young though and it's one game. But as EuroBasket rolls on, Rubio's going to consistently draw attention. And if he keeps putting up empty box scores, it won't be the good kind.