Posted by Ben Golliver.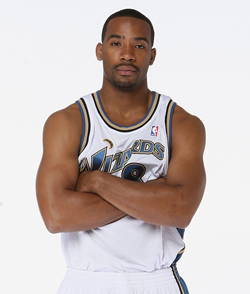 Just about every single day we hear about a professional athlete getting himself into trouble on Twitter. But not this kind of trouble.
Former NBA guard Javaris Crittenton, who has been
charged
with and
arrested
for the murder of a mother of four in Atlanta, wrote a string of updates on his Twitter account before and after August 19, the date the alleged killing took place. One week later, Crittenton's account -- @JayCrittDTE -- was deleted.
TrueHoop.com carefully combed
through an archive of Crittenton's feed, which had been set to private well before the incident, looking for clues and references to the crime. While no smoking gun was found, a potential alibi and a few causes for concern were revealed.
On the night of the murder, the site reported, Crittenton posted six messages and made reference to seeing the movie,
Planet of the Apes
.
In the days after the shooting, multiple messages were posted in which Crittenton sounded defensive. "I hear people out here slandering my name," read one message. "They want me to fall so bad. I just can't though. Wish folks would stop praying on my downfall."
Another read: "Damn, they wanna label me a menace!"
Crittenton wrote another meesage addressing and apparently challenging people whom he referred to as "twitter thugs and gangsters."
"Don't play tough behind your phones and computers," he wrote. "I'm wherever you want me to be."
Crittenton went on to tweet about traveling to Los Angeles, where he was arrested on Monday. His final message on the site was posted on Aug. 26, the same day that the murder charge became public. "This is crazy. Trouble continues to follow me for some reason. I put my trust in God."
Can we take anything from these tweets either way? Not really. There are no direct references to criminal activity and the travel logistics only confirm what was already reported by the media or suspected by law enforcement. The allusions to "trouble", "slander", "gangsters" and his "downfall" aren't all that far out of the ordinary for those regularly relying on rap vernacular for their online musings. At least not enough to stand as suspicious on their own.
A more important question: Should we be trying to take anything from these tweets? Definitely not.
Given the stakes -- the death of one woman and Crittenton's future -- rushing to judgment or convicting someone off of vague social networking posts would be a major mistake. It would undercut the "innocent until proven guilty" philosophy that is the basis for the American justice system and it would only serve to cloud what is already a horrific situation.
As this legal process unfolds, it will be fascinating to see whether these posts are used by either side. They could serve to corroborate his whereabouts in the days following the incident and could support a potential alibi for his location on the day of the shooting. Those time/place details are crucial for both the prosecution and the defense during any murder trial.