Posted by Royce Young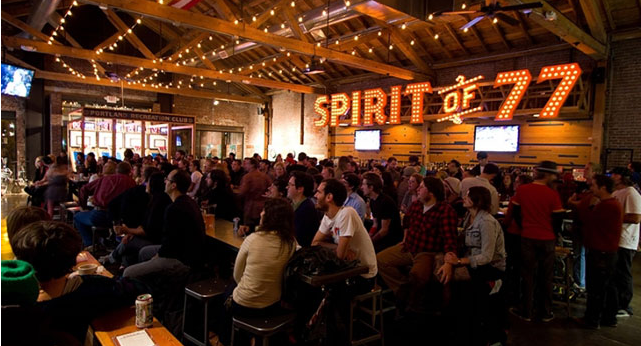 While every lockout conversation centers around the players (millionaires) and the owners (billionaires) trying to get a so-called "fair" deal that strengthens the game, makes every lots of money and keeps everyone really happy, there's always a dark side to this stuff.
We all know how far-reaching a lockout goes. How much it can affect the little guys, the people that have little to do with the organizations or players on the hardwood. I'm talking about local businesses whose lifeblood is often the nearby professional team who brings thousands in 41 nights a year.
The big markets -- New York, Los Angeles, Chicago, Boston -- they don't rely on their local teams quite as much as the smaller cities. (Fitting, eh?) But places like Memphis, San Antonio, Oklahoma City and Portland, game night is a downtown event.
A tremendous piece in the Portland Tribune
illiustrates that point extremely well for a Portland bar named Spirit of '77. No city is as crazy about their team as Portland, so remove a year of the Blazers and you remove a big part of business from the local economy. Especially for places like Spirit of '77.
Arena ticket sellers, vendors and parking attendants could lose jobs along with Blazers front office staff. In addition, the city of Portland's 6 percent take of ticket and parking revenue from Blazers games — $3.65 million last season — would disappear.

Spirit of '77 manager [Timothy] Davey says no business in town would be more affected by a prolonged NBA lockout than his. "If it gets to the point where there's not an NBA season, it will have a dramatic effect on the vitality and future of Spirit of '77," Davey says.
However, economists will pop up and tell you that lost games don't mean that much in the overall scheme of a city. Why? Because if people aren't spending their money on basketball games, they'll just spend it somewhere else.
"People spend their discretionary income," says Lauren Beitelspacher, Portland State University assistant professor of marketing. "They have a budget for entertainment, and they're going to spend it."

If they're not spending it on Blazers game nights, Beitelspacher says, they may go out to the movies more often, or out to dinner or on extra vacations. But they will spend it. And in some cases, what they spend it on might yield greater benefit for the Portland area than putting it in Blazers owner Paul Allen's pocket.
This was a major point of contention in the Sonics move to Oklahoma City. Local government contested that the city would lose some $190 million without the team. The team's new ownership group disagreed while at the same time laying out a plan for how much it would help their new city.
I've seen it first hand in OKC though. The
Thunder
have been
tremendous
for local businesses. Take away the season though and all those local bars, restaraunts, clothing shops -- they're going to take a major hit. Yeah maybe people will go spend that excess money elsewhere like the mall or movie theater, but try explaining that to the owners of those establishments. Malls and movie theaters are going to be fine regardless. That downtown locally owned bar relies on the hometown team to bring them business.
And that's not to mention the jobs that come as a result of good downtown business. Parking attendants, janitors, ushers, bartenders, waiters/waitresses -- all of that booming business comes because paying customers are coming.
So while this is obviously a battle between the owners and players, the real casualties might be the people that have to dog in the fight. The real losers of this lockout could be small town, small business. You can say it won't matter in the grand scheme, but try telling that to
them
.