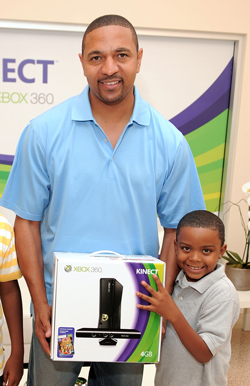 Posted by Royce Young
A few weeks ago, Warren Braithwaite was arrested. For what? Something about running a massive criminal organization specializing in a massive drug ring. No big.
Why is this important though? Well, because Braithwaite is friends with a lot of important people. Jamie Foxx, Lady Gaga and what makes this NBA news --
Warriors
coach Mark Jackson. Such good friends that Braithwaite was a guest of honor at Jackson's introductory press conference with the Warriors.
Not that Jackson was involved in any of these shenanigans, but he's definitely linked to a drug lord. Finally,
via the San Francisco Chronicle
, Jackson explained his ties:
"At the end of the day, Brother Warren doesn't have a relationship with Mark Jackson, the head coach of the Golden State Warriors," Jackson said in a phone interview Wednesday. "He wouldn't say, 'Mark Jackson, my friend' or 'Mark Jackson, my coach.'

"He would say, 'Pastor Mark, my spiritual father…' "

"In fairness to me, as a pastor, I'm going to be linked to drug dealers, drug addicts, liars and fornicators," Jackson said. "The church is a place for sick people to be healed. I'm going to help them, but I'm not going to co-sign on their troubles."
Two things: I like that Mark Jackson refers to himself in third person and yes, if you didn't know by now, Jackson is a pastor.
And Jackson's comments are entirely spot on. As a pastor, it's his job to make acquaintances with
everyone
, no matter what their background is, no matter what they're doing. It's part of the job.
We've all seen "The Wire" and how the deacon associates with everyone around whether it be drug dealers, hitmen, crooked politicians or prostitutes. Part of the gig. No different for Jackson and while it's unfortunate his acquaintance is tied up in such an ugly mess, it doesn't have anything to do with him.
Via PBT