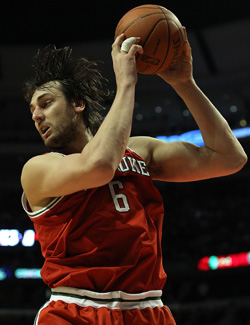 Posted by Royce Young
Where you're kind of The Player from your native country and there's a chance that the lockout could mean you're looking for work, your services are going to be highly sought after.
And that's the case with
Andrew Bogut
and his native Australia right now.
A few weeks ago,
the big man said
, "Australia is very appealing because I get more time with my family. But it's a big step up with the insurance. I won't go asking an NBL club for big money, the main thing is the insurance."
In Bogut's case, that insurance is the hitch. Because of that nasty elbow injury, he's damaged property and could suffer another setback at any time. Two teams, the Adelaide 36ers and the Perth Wildcats, appear to be in hot pursuit of Bogut, but it's going to be a matter of who can secure some $500,000 in insurance.
It's so embryonic that we have not even discussed it with our leadership group, the captains or the players,"
managing director Nick Marvin told The West Australian
. "And Andrew needs to work out what he wants to do. We would love to have him in Perth and we would need all of Perth to get behind us to make it work."
"I don't have $500,000 sitting in my back pocket, but would it be important to the people of Western Australia? Absolutely," said Marvin.
So desperate the situation that Marvin even said that he hoped government would get involved.
"For Andrew Bogut to play for us, and if that is the only hurdle we have to cross, I would hope that government and corporate Western Australia would support us and make it work."
Local government? Wow, somebody wants Andrew Bogut.
Bogut backed up all this noise on Twitter
. "I can confirm I am in talks with SEVERAL
@NBL
clubs. A long way to go yet though....Stay tuned kiddies!" he tweeted. But he's also said before that he wouldn't do anything before October to let the labor negotiations play out a bit more. But it's obvious: Australia wants him to come home.