Posted by Ben Golliver.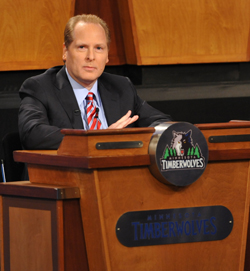 The surest sign of dysfunction in the NBA is employee turnover.
The model, successful franchises realize that the relationship between basketball operations staff, coaching staff and players is a delicate chemistry, and they seek to find the right pieces and understand that those relationships need plenty of time to germinate together. The league's weaker sisters, on the other hand, can chew through executives, coaches and players at an astonishing rate, out of impatience, frustration, dissatisfaction or any number of other negative reasons.
So it should come as no surprise that the Minnesota
Timberwolves
-- winners of just 32 games combined over the last two seasons, still without a head coach after months, and still led by bumbling president David Kahn -- are parting ways with a key basketball operations executive less than 18 months after bringing him aboard.
StarTribune.com reports
that Minnesota and assistant GM Tony Ronzone are heading down opposite forks in the road.
Timberwolves assistant general manager Tony Ronzone has left the organization. Known for his international-scouting connections, he was hired in spring 2010 just about the time Fred Hoiberg was headed for Iowa State's head-coaching job and had a voice in personnel moves that included drafting Wes Johnson and Derrick Williams as well as trading away Al Jefferson, acquiring Michael Beasley and re-signing center Darko Milicic.

The Wolves, through a spokesman, said they and Ronzone mutually have agreed to part ways and wished him good luck.
It's been a messy summer for the Timberwolves basketball operations staff. Kahn
insinuated the NBA Draft Lottery was rigged
and then back-tracked. The organization burned two draft picks for nothing when they traded an injured
Jonny Flynn
to the Houston
Rockets
and drafted a 26-year-old player who was technically ineligible to be selected. On top of that, Kahn
bungled the firing
of former head coach Kurt Rambis badly and has yet to select a replacement, making the Timberwolves the only team in the league without a head coach. Kahn also
violated the NBA's gag order
on discussing players during the lockout by referring to multiple members of his team during a press conference, a move that
reportedly drew a fine
from the league office.
We don't know why, specifically, Ronzone decided to bounce out of town, but no one would blame him if he simply said, "enough is enough."
Regardless of Ronzone's motivations or the circumstances surrounding his depature, executive turnover can be as damaging as roster turnover to a basketball team's on-court success. GM's and presidents have varying philosophies and look to target coaches and players who will carry out those ideas. Locating new executives resets that whole process, and the organization finds itself spinning its wheels in the meantime.
If there's a bright spot here it's that the lockout currently has no end in sight, so Kahn need not rush to fill these vacancies. But it takes a good organization to attract and retain good people, a fact that doesn't bode well for the Timberwolves.