Posted by Ben Golliver.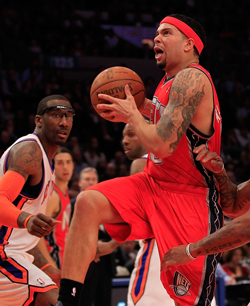 University of Oregon football coach Chip Kelly recently was asked whether he felt it was a risky move to schedule his team's opener against perennial power LSU rather than a directional school doormat.
"There's risk waking up and getting out of bed in the morning," Kelly replied. "It's all about how you look at life."
Kelly's defense of his aggressive schedule-making shouldn't be read as reckless. Certainly, there's risk in getting out of bed in the morning and there's risk in standing in front of a locomotive. Those risks clearly aren't equivalent and, in turn, the decision-making behind each shouldn't be viewed in the same light. Kelly, one of college football's most notorious gamblers, might view an early season test as a net-positive for his team, even if it results in a loss, but he surely wouldn't schedule a full 12-game slate of top competition if he intended on cashing in on the incentives in his contract and winning a national title. An early, tough test can be great preparation and won't sink a season; a four-month long gauntlet of tough tests would be foolish and, ultimately, suicidal.
As self-protecting creatures, humans are remarkably good at assessing risk on the fly. We know danger when we see it, we can process the presence of warning signs in advance, we can coach ourselves to be patient and, if all else fails, our "flight" instincts kick in and we run the other way as fast as possible.
We've learned this summer that professional basketball players possess those very same skills. Indeed, in more than two months since the NBA lockout went into effect,
RidiculousUpside.com has tracked
more than 50 NBA players, free agents and draft picks who have agreed to play overseas should there be a work stoppage or cancellation of the 2011-12 NBA season. Yet when you survey the list of names, you realize that it's a carefully self-selected group.
That self-selection process boils down to risk-assessment. The guys on the list, by and large, fit a number of key criteria. They don't have a lot of guaranteed money remaining on their NBA contracts, assuming they have league contracts in place. The majority do not have a major role in their team's rotation. Almost all are young and have not reached the prime of their careers. Just about everyone is in good health too.
This is no accident. The three biggest risks for a professional basketball player involved in a move overseas are: 1) a catastrophic injury that causes the loss of guaranteed money already owed 2) an injury of any magnitude that prevents or limits future earnings 3) the loss of NBA opportunities by virtue of being "off the map." The type of players most subject to these risks -- stars, veterans in their prime, fringe veterans with injury histories, up-and-coming players with the potential to be stars, first round draft picks in 2011 waiting on guaranteed rookie deals -- by and large have opted to wait out the lockout. They've spied the railroad tracks, heard a whistle out in the distance and opted to stand clear. It's a bit of a bummer for the viewing public who would prefer to watch these guys perform, but if your brother or son made the same decision, you wouldn't just approve, you would be proud of his common sense.
Not everyone has been completely careful, though. It's fair to say that no NBA player has yet made a reckless decision with their career, but there are a few who have more at stake and are risking more in agreeing to play overseas. Here's a look at the top five riskiest overseas signings of the summer so far.
5. Nicolas Batum, F Portland Trail Blazers
There aren't many budding stars among the group that has committed to play overseas next season, and some would dispute whether Batum, 22, has star potential. With that said, he started on a playoff team at age 20, has established a reputation as an above-average defender, has developed his offensive game each year in the pros (despite a relatively cold shooting year from outside in 2010-11) and is viewed as a core building block piece. He complements the team's franchise player, forward
LaMarcus Aldridge
, nicely and has an upbeat attitude that is endearing to fans and a solid work ethic that appeals to coach Nate McMillan.
The risk in the move overseas for Batum isn't his current contract, as he's still tied into a rookie deal through next season. Instead it's all about the threat of injury, as Batum missed more than half of his second season in the NBA with a shoulder injury that required surgery. Batum is clearly thinking with his heart as much as his head in signing with SLUC Nancy of France; he wants a chance to play in front of his home country's fans and is a gym rat who has played year-round for years, thanks to his participation with Team France. Batum plays a hard, two-way, high-flying game and isn't afraid to lay his body out. The Blazers figure to offer Batum a long-term, big-dollar extension in the future. Risking that by playing overseas this year isn't an insane proposition.
4. Ty Lawson, G, Denver Nuggets
Lawson, like Batum, is still locked into a rookie deal that pays him below what he would be worth on the open market. Even though he's only played two years in the NBA, Lawson has done well to establish a very high earnings potential. An excellent outside shooter and one of the league's fastest players, Lawson transitioned into a starting role last season and watched as Denver traded his competition for the job --
Raymond Felton
-- to Portland for veteran
Andre Miller
, who probably makes more sense as a backup at this point in his career. In other words, Lawson was handed the keys to the Nuggets' car at an early age and, given how many players they are likely to lose in free agency, he should have all the touches and shots he wants to start building a track record that will mean a big payday down the road.
Foot and ankle injuries have limited Lawson during his UNC days and as a Nugget, but he's coming off a season in which he appeared in all but two games. The risk here is simply future earning potential. It's possible that his time with Zalgiris in Lithuania will help him improve -- or at least maintain -- his skills. But the uncertainty in adjusting to a new country, team, style of play and everything else looms over a young man already tasked with helping rebuild an NBA team in transition.
3. Nikola Pekovic, F, Minnesota Timberwolves
Would you believe that Pekovic in second only to
Deron Williams
on the list of players who have the most guaranteed money coming to them on NBA deals who have committed to playing overseas? It's amazing what a terrible David Kahn contract is capable of! Pekovic, a plodding 25 year old big man who played just 13.6 minutes per game in his rookie season, has $4.5 million coming to him in 2011-12 and another $4.9 million coming to him in 2012-2013. When you look at those numbers compared to his production, your first thought is, "Don't blow it by getting injured! You'll never sucker another GM into giving you those numbers!"
Pekovic's risk is mitigated here because he's familiar with the overseas game, having played professionally there since 2003. He's set to return to one of his old clubs -- Partizan Belgrade in Serbia -- next season. Those familiar surroundings plus the ground-bound, tough-guy nature of his game limit his exposure. Plus, the worst case scenario is that Minnesota is able to void his contract. Given that assistant GM Tony Ronzone simply walked off the job this week, maybe that's not so bad after all.


2. Wilson Chandler, F, Denver Nuggets
Maybe the most curious move of the summer was Chandler's decision to sign a one-year deal in China, a contract that prevents him from returning to the NBA in the event that the labor situation is resolved. In other words, Chandler has already sacrificed the difference in money between the $3.1 million he would have made next season with the Nuggets and the reported roughly $2 million that he will make with Zhejiang Guangsha.
That's not the only money that was at stake for Chandler, though. Chandler was set to become a restricted free agent in a weak crop, meaning there would have been some fairly good-sized dollars available to him. Denver, of course, would have been highly motivated to match any offers given their newfound weakness at wing following the team's trade of
Carmelo Anthony
to the New York
Knicks
. One way or another, he was getting paid and the amount would have been significantly higher than what he's receiving in China. The only potential reason for taking the Chinese money and running is if Chandler simply doesn't want to play in Denver long-term. The most likely result for most coveted restricted free agents is they sign multi-year deals with their current team. If Chandler didn't like his new, post-Knicks digs, the move makes a little bit more sense, as he can potentially return to the NBA waters down the road as an unrestricted free agent. But will an NBA absence affect his perceived value?
1. Deron Williams, G, New Jersey Nets


This one shouldn't come as a surprise. Williams bucked convention by becoming the only current NBA All-Star to agree to play overseas, signing a much-ballyhooed deal with Besiktas of Turkey. Name a risk and it applies to Williams. He has $16.4 million coming to him in 2011-2012 and could pick up a player option for $17.8 million more if he wants, or he could enter free agency next summer and be a no-brainer candidate for a max contract. He has a lingering wrist injury that required surgery and is reportedly still giving him problems. He's 27 years old and primed to enter his peak NBA years. Put all of that together and Williams has -- by far -- the most to lose of anyone on this list. Sure, he's already made more than $43 million in career earnings, but he's got far more than that coming to him over the next 5-7 years.
Even considering all of those negative warning signs, his decision is defensible. The Nets mortgaged their entire franchise to trade for him and they could not be more motivated to retain him. At some point, it's more than likely they will literally beg him to sign a max extension. They have no choice; the rest of the roster has proven it's not competitive and the team is not a desireable free agent destination, at least until the move to Brooklyn is completed. In other words, Williams has New Jersey over a barrel and he knows it. He's in a position where he can cash checks from Besitkas while staying in shape and pull the "injured wrist" card and come back to the United States if he isn't comfortable with the team, the country or his accomodations overseas.
When you look at it like that, even the riskiest overseas signing starts to seem like a bit of a no-brainer.