Posted by Ben Golliver.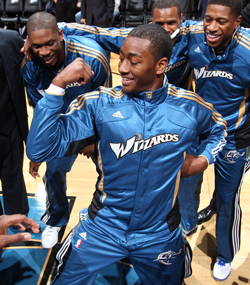 About two weeks ago
, we brought you early word of an informal league being launched by Impact Basketball, a well-known training facility frequented by NBA players, in Las Vegas. The premise behind the league was simple, but surprisingly foreign: provide a structured, non-NBA environment for professional basketball players to compete during the ongoing lockout.
The New York Times reports
that all systems are go for the league, which plans to begin a two-week slate of games on Sept. 12.
The site will be the Impact Basketball gymnasium, about two miles from the Strip. The unofficial commissioner will be Joe Abunassar, a longtime trainer of N.B.A. players. More than 40 players, locked out of N.B.A. facilities because of a labor standoff, have committed to play. Chauncey Billups, John Wall, Zach Randolph and Stephen Jackson will be among the headliners.

"This is an effort on our part to get these guys as ready for training camp as they can get, without going to training camp," Abunassar said in a phone interview. "That's the allure of it."

The tournament has been named the Impact Basketball Competitive Training Series.
The league plans to sell a limited number of tickets to the general public and to provide live video streams of the games online. The
Times
reports that the following players also plan to participate:
Shawne Williams
,
Iman Shumpert
,
Kyle Lowry
,
Chuck Hayes
,
Chase Budinger
,
Courtney Lee
,
Mo Williams
,
DeAndre Jordan
,
J.J. Hickson
,
Eric Maynor
,
Al Harrington
,
Jermaine O'Neal
and
Jared Dudley
.
This league sounds like a noble and well-thought out attempt at getting professional basketball off the ground during the lockout, but it doesn't particularly sound like a made-for-TV event (aside from the presence of Wall, who is always made-for-TV, whether he's balling or dancing). The focus seems to be on staying in shape and skill development with a secondary emphasis on building chemistry between teammates. This league will likely have more in common with recent exhibition games or maybe the Las Vegas Summer League rather than an NBA game. The scope will be narrower and the sideshows will likely be non-existent.
For hardcore hoop heads, that won't matter. But the casual fan likely won't pay this league any mind. Unless, of course, some bigger stars throw their hats in the ring.