Posted by Ben Golliver.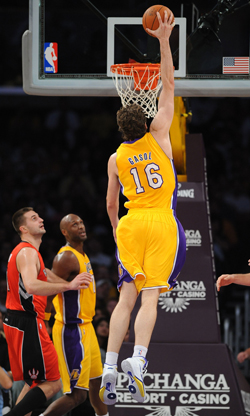 If you were worried about the health of Los Angeles
Lakers
forward
Pau Gasol
, it sounds like you shouldn't be.
Gasol, representing team Spain at EuroBasket 2011, sprained his ankle in a Sunday game against Lithuania but has reportedly been cleared to return to action for the rest of the tournament.
ESPN.com reports
that Gasol is good to go after sitting out Spain's loss to Turkey on Monday.
Pau Gasol is expected to be fit for the second round of EuroBasket ...

"He is day to day," said Spain coach Sergio Scariolo. "He's having treatment and the doctors will assess him before the second round begins."
Obviously, Gasol's availability is great news for Spain, as they are the tournament favorites and defending champions. Spain next plays against Germany, led by Dallas
Mavericks
All-Star
Dirk Nowitzki
, on Wednesday.
Having already qualified for EuroBasket's second round and securing the Group A top spot by virtue of winning their first four group games, the 65-57 loss to Turkey was meaningless for Spain. Spain has advanced to Group E, where it is joined by France, Serbia, Turkey, Lithuania and Germany. The top four teams will advance to the quarterfinals, where they will square off against the top four teams of Group F, which is made up of Macedonia, Russia, Slovenia, Greece, Georgia and Finland.
Through four EuroBasket 2011 games, Gasol is averaging a team-high 21.8 points and 5.5 rebounds per game.
Gasol started all 82 games for the Lakers in 2010-2011, averaging 18.8 points and 10.2 rebounds per game.