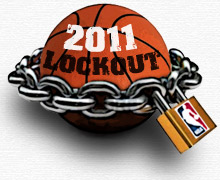 Posted by Royce Young
A week after a six-hour meeting that led to both sides agreeing to cut down on the public rhetoric, the players and owners will meet again Wednesday,
according to ESPN.com
. It was known a few days ago
there would be a meeting this week
, just not when.
This will be the third meeting since the lockout was installed on July 1. And with the NBA season rapidly approaching -- training camps would be start in three weeks -- there's a new sense of urgency.
Like last week's meeting, this one will only include some of the higher-ups. David Stern, Adam Silver and
Spurs
owner Peter Holt will be there to represent the league. Billy Hunter, counsel Ron Klempner and president
Derek Fisher
will represent the players.
There was some positive momentum from the last meeting. Not necessarily to a deal, but it was at least productive and both sides left with a plan to try and work towards the middle. The more of that we get, the better. If Wednesday's meeting goes south and it's back to the talk of nothing happening, training camps might be getting cut soon.
This will be the fourth meeting total since the lockout started, but second in the last 14 days. That's positive. Doesn't mean a deal's coming or anything, but it's better than the alternative.