Posted by Ben Golliver.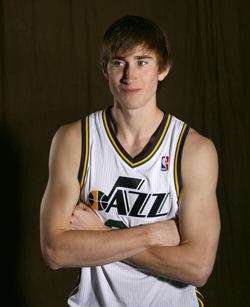 Utah
Jazz
forward
Gordon Hayward
isn't playing professional basketball overseas during the lockout. Instead, he's taking his talents to a galaxy far, far away.
DeseretNews.com reports
that Hayward will be playing video games professionally.
The 21-year-old Utah Jazz player has joined a professional video game league with IGN Entertainment. Hayward will compete with other eSports video athletes in a StarCraft II competition from Oct. 6-9 at Caesars Atlantic City in the IGN Pro League. Hayward is excited to be among 256 players shooting for a share of a $100,000 prize pool in IPL 3: Origins.

"I've been playing video games for as long as I can remember," Hayward said in a news release. "I'm a competitive guy, and I love the competitive nature of video games.

"Pro-gamers are really sports stars themselves," he added. "The mental strategy that goes into planning your next move and what your opponent is going to do are skills you need to be successful playing basketball — and playing StarCraft II. If you want to be good, you have to put a lot of time and effort into it, just like with other sports. I've got the best of both worlds."
Reeeee-orrrrr. Reeeeee-orrrrrr. Yes, that's the sound of your nerd alert being activated. It is a good thing Hayward waited until after Jerry Sloan retired to announce these plans. For everyone's sake.
But, wait, there's more. Hayward was asked
in a promotional video interview
to compare the stress of playing professional video games to the stress of the NBA. His response.
"I think you've got to look at the circumstances of each. If you're winning a Starcraft game for the championship at IPL for the six-figure pool prize, that's probably pretty stressful ... At the same time, if you're going to shoot a three-pointer to win the game with someone guarding you, that's pretty tough too. I'd say they are both tough in their own right."
The video and others can be viewed on
Kristen Sharbaugh's Vimeo.com account
.
Well, not to go all Charles Barkley on you, but we have officially reached the point where we know for a 100 percent fact that the NBA is too soft. When a 21-year-old, 207 pound forward doesn't immediately recoil in horror when asked to compare the stress and rigors of the NBA to a freaking science fiction video game we know that the NBA game has been cleaned up too much. If a Zerg attack really gets his blood pumping as much as a game-winning shot, that's a terrible look. We don't want to live in a world where this can be true, do we?
I guarantee that no NBA player in the 1990s ever said, "That karate chop from Ryu was pretty much the same as the haymaker Charles Oakley hit me with last night." Or, "Oh man, jumping off that hill in Excite Bike was so exhilarating it reminded me of the time Jeff Van Gundy prevented further chaos by clinging to
Alonzo Mourning
's leg." Never happened.
Hopefully Hayward's interview gets entered into evidence in the ongoing collective bargaining agreement negotiations so we can turn back the clock and undo this embarrasing chapter in the history of the league.