Posted by Ben Golliver.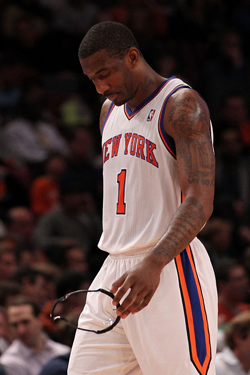 New York
Knicks
All-Star forward
Amar'e Stoudemire
carried his team to the NBA playoffs for the first time in seven seasons last year, but we tend to forget that he collapsed almost immediately upon arrival. The Knicks were swept out of the Eastern Conference first round by the Boston
Celtics
and Stoudemire was a shell of his former self, averaging just 14.5 points and 7.8 rebounds, thanks to a pulled back muscle.
Stoudemire didn't undergo surgery this summer and there's been that whole ugly lockout thing, so his good health has generally been assumed going forward. But should it be?
The New York Daily News reports
that Stouemire's availability should the 2011-2012 NBA season start on time is still in some question.
Stoudemire has not fully recovered from a back injury he suffered before Game 2 of the Knicks' first-round series against Boston last April. A Knicks source claims that Stoudemire is approximately "90% healthy" but couldn't guarantee that the six-time All-Star would be available if the NBA season begins on time.


Stoudemire, who took most of July off to rest his back, is scheduled to resume workouts in Florida within the next couple of weeks.
Speaking at a charity event in Harlem on Wednesday, though,
Stoudemire told the New York Post
that he will be ready when the NBA is ready, which he expects to be in short order.
"I'm hearing good things about the lockout, that we'd be starting sooner than later,'' Stoudemire said.

Stoudemire ... said he "feels great'' and would "definitely'' be ready for action. He had been resting and rehabbing much of the summer because of the back's slow healing. He's ready to step up his workouts Monday and is good enough to play now. "I feel great,'' Stoudemire said. "Been resting all summer. That's been my main priority and I feel great.''

Asked if he was nervous earlier in the summer about his back, Stoudemire said, "It was definitely a time it was sore and I didn't know how long it would take to recover from that type of injury.''
Stoudemire's words are certainly encouraging and reassuring, but he really has no reason to say anything to the contrary. The NBA season doesn't appear to be in a rush to get here and he hasn't played in any of the competitive exhibition matches this summer, so it's probably safest to reserve judgment on his current health.
Given that the initial diagnosis wasn't particularly serious, there's a much better than average chance that Stoudemire is indeed ready to go. But "better than average" isn't good enough for Knicks fans who are fully aware that next year's squad will be in the same spot as this year's Knicks: Lacking meaningful depth, the team will only go as far as Stoudemire -- and his new-ish running buddy
Carmelo Anthony
-- can drag them.