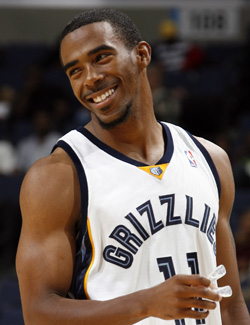 By Matt Moore
The number of ways
Mike Conley
has impressed me
since I torched him upon his signing a $40 million extension
continues to grow. I've been wrong about some things. Today. And, well, every day. But I do my best to try and recognize it and adjust accordingly. And Mike Conley continues to bury a knife into my early season criticism of him last year. In short, I look like a moron consistently. Case in point: Conley has taken the lead in organizing team workouts in Memphis during the lockout to work on conditioning, in-game situations, and chemistry. From the
Memphis Commercial-Appeal
:
Mike Conley decided not to wait for an end to the NBA lockout to direct the Grizzlies.

The point guard took charge and mobilized his teammates for a mini-camp in Memphis this week.

Conley, Rudy Gay, Tony Allen, O.J. Mayo, Zach Randolph, Xavier Henry and Sam Young reunited at a local gym early Tuesday. Ish Smith and second-round draft pick Josh Selby were expected to join the group Wednesday.

"I've been prepared all summer to do this," Conley said. "It's my job as the point guard. I want to be one of the leaders on the team. And guys did a great job of keeping their word and coming in on time ready to work.
via
Mike Conley organizes workouts for Memphis Grizzlies » The Commercial Appeal
.
If you were around the Grizzlies at any point last season even for a game, you'd see Conley's influence as a leader. He stayed the longest at practice most days, he was constantly talking with coach Lionel Hollins, and he was almost always in a position to make sure his teammates were prepared. There were times when his late-game execution and decision making was confusing, but then, he also made some huge plays in those key situations. He's still growing into his role in the NBA and with the Grizzlies, but this is a tremendous example of taking the next step in terms of leadership. Being the guy to get everyone together, to instill discipline, that puts him at another level.
The roster of those attending is interesting. Randolph had said he wanted to help organize such a workout. Tony Allen coming just shows his commitment. Gay has been active in getting back into his role with the team as he recovers from shoulder surgery. Sam Young is in need of constant coaching to improve his knowledge of where to fit in on the floor. Then there are the others.
O.J. Mayo electing to join the team is notable in and of itself, after Mayo was nearly traded at the deadline following a short suspension for a banned substance and was involved in a fight with Tony Allen. Mayo recovered and acted professionally on the floor throughout the year, and came through for Memphis in the playoffs. He's also a restricted free agency when the season resumes. But Mayo
has spoken about the comfort level he has with this team
and it shows.
Then there's Xavier Henry. Henry was a highly touted lottery pick, who suffered a knee injury, then vanished from the active roster. He was invisible during the playoffs and there have been concerns over his relationship with Lionel Hollins. His working out with the team is a good sign, as he could use some time among the veterans in Memphis, as could Josh Selby, another Jayhawk the Grizzlies drafted. Selby plummeted to the second round after being considered a lottery pick over character and attitude questions. But Selby has also been in good company this summer, playing alongside NBA stars like
LeBron James
through his connection to
Carmelo Anthony
's Team Melo, as well as his work at Impact Basketball in Las Vegas.
Conley is still not an elite point guard in this league and likely will never be. But his consistency and work ethic, along with this kind of leadership shows why that extension wasn't just at good market value, it was probably a steal. If you need me, I'll be in the corner staring at the wall until my detention is up.