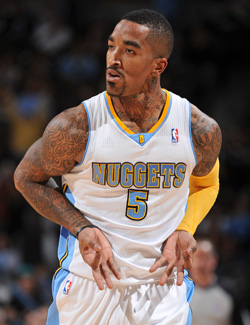 By Matt Moore
Let's get right to the heart of the matter regarding
J.R. Smith
's Chinese prospects. From Yahoo Sports:
Denver Nuggets free-agent guard J.R. Smith(notes) is nearing an agreement on the richest contract in China Basketball Association history, sources told Yahoo! Sports.

Under terms of the deal, Smith would make more than $3 million to play the 2011-12 season with Shanxi, but lose his chance at unrestricted free agency prior to the start of the NBA season. Smith, who turns 26 Friday, has averaged 12.5 points per game in his seven-year NBA career.
via
Smith nears deal to play in China - NBA - Yahoo! Sports
.
Smith would be the second Nugget free agent to sign in China following
Wilson Chandler
. It also makes a pretty good amount of sense considering Smith's outlook. This expands his popularity, makes him quite a bit of money, and keeps him in the lifestyle he's becom accustomed to.
There is, of course, the talk of how the CBA (Chinese Basketball Association, not the Collective Bargaining Agreement; yes, that's right, Smith is signing with the CBA because there isn't a CBA) passed a rule which prohibits teams from granting an NBA opt-out clause in contracts. The rule was made to avoid the CBA looking like a player's backup option, only to be tossed aside when the season starts. The overwhelming popularity this could bring the CBA is of course overlooked, because it's an ideological position, one which should have no place in business. (Hey, kind of like the arguments on both sides of the lockout!)
But there are those who think that the Chinese teams will get around this simply by having an under the table agreement to release the player in the event of a lockout resolution. Consider this. The CBA season begins on November 20th and runs through March. If the NBA started in January as many have predicted or February as was the case in the 1999 lockout, Smith would have made up to $1.5 million for two to three months of work, then get "released" for whatever reason the team wants to invent, at which point Smith signs his new lucrative free agency contract, including a prorated amount for the lockout.
Pretty savvy for Mr. Smith. We'll see if he signs, and if he does, if he stays. If he does stay, there will be disappointed Nuggets and
Bulls
fans, both who want Smith on roster next season.