Posted by Ben Golliver.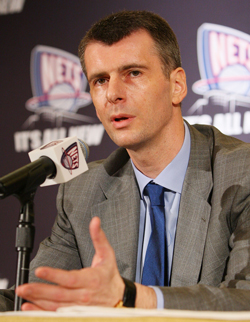 One of life's simple truths: any time masked men with guns enter a bank, it's bad news. Whether it's a robbery or a raid, that situatiion isn't ending well.
For New Jersey
Nets
owner and eccentric Russian billionaire Mikhail Prokhorov and the Moscow bank that he co-owns, it turned out to be a raid by "law enforcement officers" on Thursday.
Reuters.com reports
the insane details.
Several luxury cars drew up outside the bank on a busy boulevard near the Kremlin and law enforcement officers, some wearing masks and carrying guns, entered and ordered employees and clients not to leave, Kharitonov said.


"They put all the employees in one area and kept them there for an hour without explaining what was going on," he told reporters. "After an hour, they said there were no claims against the bank, and no searches were carried out."

Asked whether the raid could have been related to Prokhorov's involvement in Right Cause, Kharitonov said, "I cannot rule it out. I don't know, but I think nothing can be ruled out."
Right Cause is a minority Russian political party that Prokhorov heads that is seeking to unseat the country's current government. In other words, the bank could be some kind of political intimidation tactic or early warning to a perceived political threat.
But, really, go read those three paragraphs again. That scene is straight out a movie. What's next? Prokhorov commandeers a helicopter and drops a team of elite commandos on the Russian parliament building? When we think of drama-drawing, headline-stealing Nets owners, we usually think first of Jay-Z. But he can rap about his throne and "all black everything" all he wants, Prokhorov blows him out of the water when it comes to pure intrigue.
For interested Nets fans, it's not yet clear whether this was the bank where Prokhorov housed the money to pay
Travis Outlaw
's ridiculous contract. Odds are pretty good that you're still stuck with him. Hopefully Reuters manages a follow-up report to clarify.
Hat tip: NetsDaily.com