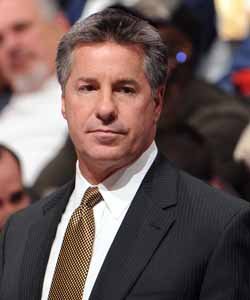 By Matt Moore
The list of candidates for the Blazers' general manager position continues to grow, and the latest could have big ramifications. From ESPN:
Sources with knowledge of Portland's thinking told ESPN.com that the Blazers have both Cleveland Cavaliers vice president of basketball operations David Griffin and Los Angeles Clippers vice president of basketball operations Neil Olshey on their wish list.
via
Blazers eye two more GM candidates - TrueHoop Blog - ESPN
.
Olshey is the one that could really cause some ripples in the NBA fabric. Bear in mind that this is a report on the Clippers wish list, not a confirmation of an interview or of mutual interest. Olshey could be perfectly happy with the Clippers, even if his contract is set to expire this coming October.
But if we're smelling the smoke, we may as well look at the fire. Olshey has been a bright spot for the Clippers, as his moves have brought a new era where the Clippers aren't contending, but seem on their way. He's built a young team around
Blake Griffin
, and though he has lost draft picks, he's brought in enough talent to make you think the Clippers are headed somewhere. Losing Olshey means a return to instability, and, in more of a concern, an opportunity for Donald Sterling to hire the wrong person.
What's the real element of interest here? If Olshey leaves, and the Clippers return to disorganized mediocrity (as opposed to their current path of organized mediocrity with some hope of success), that puts even more fuel on the fire that could cause Blake Griffin to sign the qualifying offer in his restricted free agency in 2012, which would then make him a free agent in 2013. It's unlikely given the money he would have to surrender in that scenario, but this is the Clippers. We don't count anything out. Griffin hitting the open market would create a frenzy in free agency with teams dumping cap space to obtain his services in 2013 as if they were holding a firesale, and losing Griffin would be devastating for Clippers fans only now starting to believe hope is on the horizon.
In short, that would be bad. It's not that the Clippers need Olshey, he hasn't been the best GM or even top five in the past year. It's just that a franchise with such a history of disaster has to start somewhere, and the best place to start is by not giving Donald Sterling another hiring directive.
Griffin is a long-time basketball man who came up through the ranks and would be a great fit in Portland. He's well-respected and could bring some stability to the position, something Portland desperately needs.