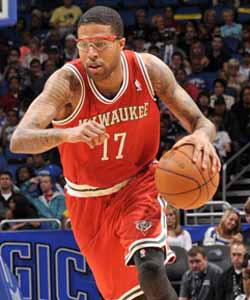 By Matt Moore
Virtus Bologna is an Italian basketball club.
Earl Boykins
played there a few seasons ago. Orlando Woolridge, too. Travis Best,
Charlie Bell
, there's a handful of NBA guys who have donned their unis. But with the lockout and the availability of NBA talent, it would appear Bologna is opening up its pocket books for some of the bigger names.
First, Sportando reports that a former Memphis Tiger and current Milwaukee Buck is taking off for the northern region of the boot:
Despite the meetings to avoid the lockout are going on, Chris Douglas-Roberts decided to leave NBA and land in Italy where he will play for Virtus Bologna.

The two parts reached an agreement in principle and the small forward has just to sign the one-year contract without NBA out with the Italian team.
via
Virtus Bologna close to Chris Douglas-Roberts | Serie A | Italy | Sportando
.
CDR has never fit in in the NBA. He landed in an unstable, volatile situation in New Jersey as management, coaching, and ownership changed hands in the handful of years he was there. He landed in Milwaukee, but since he's not a gritty veteran defender, he has a hard time getting time with Scott Skiles. Well, that and his skillset on a coordinated team level is like giving a goldfish a bicycle, even if the bicycle is really long and quite fast, the goldfish still can't do anything with it.
In Italy, he could be a star. CDR's claim to fame outside of a prolific Twitter account and his time with Memphis is his awe-inspiring one-on-one record which was at one point unblemished. Give him the ball and stand aside, Italianos! Let's hope his coach enjoys ISO sets.
The next is a report out of the
San Antonio Express News
that involves a much bigger name.
Manu Ginobili
.
Manu Ginobili's agent, Herb Rudoy, on Thursday confirmed an offer made to Ginobili to rejoin the Virtus Bologna team in the Italian League, but said no response has yet been made to the offer.

Ginobili's brother Leandro, working as a television analyst at the FIBA Americas tournament, also confirmed the offer for Manu to play again in Italy if the NBA lockout continues.

"I don't think Manu is thinking he will go play in Italy for two months before returning to the Spurs," said Manu's 41-year-old brother.
via
Spurs Nation » Ginobili has offer from his former club in Italy
.
You would think the only way Ginobili is going to test his legs by playing somewhere other than San Antonio is in Argentina after he retires from the NBA, a likely possibility. But the fact that Bologna is making such offers shows their commitment. It's also intriguing, as compared to hyper-controlled China and the instability of Besiktas in Turkey, Italy is a real vacation spot. Live well, eat well, enjoy the countryside, see the piazzas... that sounds like a fine way to spend a lockout. Too bad Ginobili is focused on international competition and then likely trying to stay healthy to start the season for once.