Posted by Ben Golliver.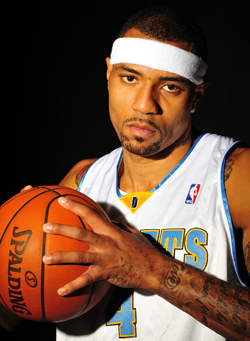 Update (Wednesday, 10:26 p.m.)
The Denver Post reports
that Martin has agreed to the deal with Xingiang Guanghui.
Yahoo Sports reports
that, all told, the deal will be worth $3 million.
Original Post
Anything you can do, I can do better. I can get record offers from the Chinese Basketball Association better than you. No, you can't! Yes, I can. Yes, I can. Yes, I can.
Just days after Denver
Nuggets
free agent guard
J.R. Smith
reportedly
received a record offer
from a Chinese team, Nuggets free agent forward
Kenyon Martin
has reportedly received offers even larger than Smith's. This gravy train actually began less than two weeks ago when Nuggets free agent forward
Wilson Chandler
signed a one-year deal
with Zhejiang Guangsha.
The
Denver Post was first with the story
.
Kenyon Martin has received significant interest from two professional teams in the Chinese Basketball Association, which would make him the highest-paid player in the history of that league, a source said today.


The longtime Nuggets power forward is currently weighing his options. If he signed with a team he would make more than the reported $3 million that Nuggets teammate J.R. Smith would make for a Chinese team, the source said.
ESPN.com followed up with a few more details.
Sources told ESPN.com on Friday night that the team Martin has engaged with most seriously is Xinjiang Guanghui ... or the Flying Tigers of Xinjiang. Xinjiang is also among the teams in China that have entered into serious talks with Philadelphia 76ers restricted free agent Thaddeus Young. Yet one source close to the situation says that the Flying Tigers are focusing more now on Martin, with the Post reporting that K-Mart has been offered more than the reported $3 million that Smith has been offered by Shanxi Zhongyu.
Not that Martin is consulting with the blogosphere on this one, but I would strongly advise that he take a pass on China. Then again, I would have also advised against the "lips on the neck" and getting involved romantically with a female rapper whose lyrics consist exclusively of body parts and profanities (sometimes both at the same time), so that doesn't mean much.
In a recent look at the
most risky overseas signings
, I pinpointed remaining guaranteed money on a contract, injury history and age as three critical determining factors in assessing whether a move overseas during the lockout was a good idea. While Martin is an unrestricted free agent and therefore wouldn't be putting at risk any money that he's already earned, he is in line for a fairly good sized contract, either from the Nuggets or a suitor in free agency. His best years are behind him, but he's still a physical, intimidating presence who still averaged 8.6 points and 6.2 rebounds last season.
But when it comes to injury history and age, the red flags start popping up quickly. Martin is about to turn 34 and likely has no more than two, possibly three, more productive seasons left. What's more, he has multiple microfracture knee surgeries in his past and has missed 165 regular games combined in the last five seasons. That pencils out to 40 percent of all regular season games! He missed nearly half of last season after rehabilitating from another knee injury.
The only way agreeing to play in China makes sense for Martin is if he has come to the conclusion that his body clock is ticking loudly. If that's the case, avoiding a wasted year of salary if the NBA shuts down becomes a greater concern. Otherwise, he's better off simply to wait his turn for another NBA pay day.