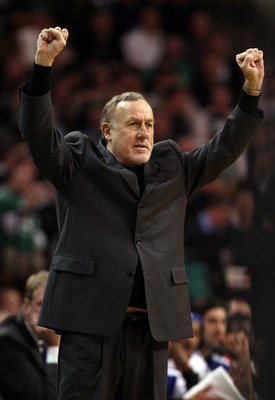 Posted by Royce Young
He may be looking for $25 million guaranteed, but no bother for the
Timberwolves
: Rick Adelman is looking to be their man.
According to HoopsWorld
, Adelman and the Wolves are close to a deal and is "expected to reach a contract agreement with the Timberwolves next week."
Two things first off: 1) This, if true, would be an absolutely ideal hire for the Wolves. Perfect fit, perfect coach for the young, talented roster and someone that may actually be able to install a system that maximizes and utilizies all the scattered, random ability on the team. Adelman may be pricey and he may be asking for a whole lot from ownership, but he's the kind of experienced, qualified, offensive-minded coach the team needs.
2) Is this a good sign for the season? Hard not to wonder. Adelman seemingly retired after an odd split with the
Rockets
and thw Wolves probably wouldn't be interested in committing this much to him if they weren't certain they were going to get to use him. Because regardless of the lockout, the team is going to be paying Adelman whatever his contract is for. And that's going to be a whole lot of dollars to waste if nothing. Then again, would anyone put that past the Wolves?
Again, hesitate a bit to go ahead and call this a done deal. It's just a report with an expectation to have a contract finalized next week.
But at the same time, the Wolves and Adelman have had a serious flirtation thing going on for a few months and it's not all too shocking if Minnesota finally wooed him enough to reel him in.
And really, with a roster as interesting as the Wolves with
Kevin Love
,
Derrick Williams
and
Ricky Rubio
, Adelman and his offensive mind might've just not been able to say no. I can tell you, if this is true and Adelman really is taking over the Wolves, that team just became an instant League Pass favorite. They were already pretty interesting, but now they just got
really
interesting. Might not win anymore than they have in the past, but it'll be interesting at least.