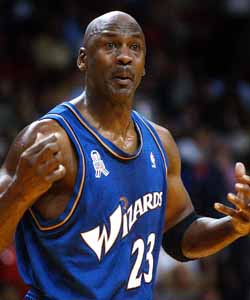 By Matt Moore
ESPN reports that Michael Jordan
has been fined $100,000 by the NBA league office
for
his comments in August with an Australian newspaper
. Jordan said in mid-August:
"We have stars like Bogut who are entitled to certain type of demands. But for us to be profitable in small markets, we have to be able to win ballgames and build a better basketball team."

"Bogut is a good piece to build around for Milwaukee," Jordan said.

"I love Bogut's game. He's made a very good start and he's definitely gonna be a star. His big problem is that he's been dealing with that elbow injury. But he is a star to be reckoned with (and) will be a star for some time."
via
Michael Jordan airs
Andrew Bogut
issue | Herald Sun.
That mention of Bogut is forbidden, as the NBA is supposed to act like the players don't exist during the lockout, for a variety of legal reasons and because, well, it sets a tone. Jordan also spoke about the lockout and what the owners were looking for as far as revenue sharing. As that kind of talk publicly can undermine the league's negotiating efforts, that's also a no-no.
While less than the rumored $1 million fine for any league employee or representative for making contact with players or their representatives (unless you're Adam Silver, apparently), the fine is still considerable if accurate. Well, we mean in terms of most normal NBA fines or an average person's salary. For Jordan, he probably pulled it out of his wallet, or got it from under his couch cushions or something.
Jordan
was also warned not to golf
with NBA players at Lake Tahoe celebrity tournament. The NBA has levied other fines against team representatives like David Kahn
for similar violations during the lockout
. In short, the league's not kidding around, regardless of whether you're the greatest player of all time, a majority owner, or whoever. There are consequences to comments in this lockout.