Posted by Ben Golliver.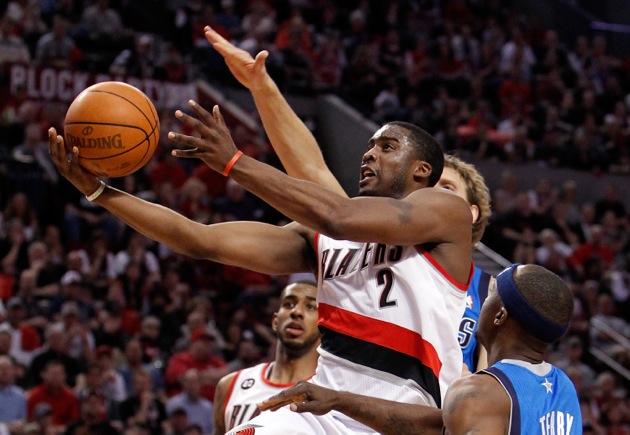 LAS VEGAS, NV -- The "Lockout League," more formally known as Impact Basketball's Competitive Training Series, tipped off here Monday, just a mile or two from the world famous Strip. Aside from a few luxury automobiles in the parking lot, the glitz and glamour didn't creep up Sunset Boulevard. The gym on Day 1 was a crusty sportswriter's dream: no frills, no halftime shows, no musical soundtrack, no entourages, no groupies. It was so low-key there weren't even substitute players or stand-in coaches. Just five-on-five for four quarters, three referees, a scorekeeper taking notes by hand, and a ball. The only neon in the building belonged to a small shot clock. Four games a day like this, back-to-back-to-back-to-back.
Where else would you expect to find Portland
Trail Blazers
guard
Wesley Matthews
during his summer vacation?
Matthews' basketball rags-to-riches story is well known by now. Undrafted out of Marquette, he caught on with the Utah
Jazz
, impressing legendary coach Jerry Sloan with this toughness and two-way play, and parlayed a strong rookie season into a five-year, front-loaded, full mid-level contract with the Portland Trail Blazers during the summer of 2010. On the day he was introduced to the media in Portland, Matthews promised that the contract wouldn't change him or impact his non-stop work ethic.
By all accounts he has lived up to that pledge, playing in all 82 games in his first season in Portland. He stepped into a starting role when Portland's All-Star guard
Brandon Roy
dealt with recurring knee issues, averaging 15.9 points and 3.1 rebounds per game. But one thing did get in the way: a painful ankle injury, caused by a few too many bad sprains, that he opted to play through rather than treat during the season.
Once summer hit, Matthews' first stop was to a specialist, who recommended a regimen of Platelet Rich Plasma therapy and instructed that he wear a protective boot around the clock to ensure that both his ankle and foot would heal properly.
"I had the PRP injection maybe a few days after the season ended," Matthews said on Monday after scoring 19 points, grabbing six rebounds and dishing four assists on 7-for-13 shooting in his Impact debut. "I was in a boot for six weeks. Stayed in the boot at all times, only thing I didn't do was shower with it. After six weeks, I started slowly working on walking, just basic stuff. When you mess up your ankle, you want to get all the mobility right. Get the basics down, everything. It was a long process. it was close to two months trying to get back before I could really do anything."
For Matthews, whose game is predicated on non-stop defensive energy and hustle, two months without movement is akin to torture. But was the mandatory rest worth it?
"It's like night and day," Matthews said of how his ankle feels now compared to how it felt during Portland's first round playoff series loss to the eventual NBA champion Dallas Mavericks. "I can feel my toes now. I didn't have feeling in my toes during the last month and a half of the season."

With that he looked down at his feet and smiled.
During his game Monday, Matthews moved smoothly and forcefully. He slid his feet laterally on defense, pushed the ball aggressively in transition and generally moved as if nothing was wrong. To the naked eye, he looked back to normal.
"The foot is feeling good," Matthews said. "Still healing, still getting better. It's getting stronger. I'm doing more and more and I'm in a lot less pain. I still feel it. I still know that it's not 100 percent there, but it's getting there."
it goes without saying that Portland will need Matthews at 100 percent next season. With a new starting point guard in place and the long-term health of both Roy and center
Greg Oden
in question, the Blazers need as much stability as they can get. Matthews represents stability and, for his part, isn't sweating the transition from
Andre Miller
to
Raymond Felton
at the one.
"Dre was a great point guard," Matthews said. "He really helped me out. He helped the team out a lot. Made me a better player, being able to read the game. With Ray, he's an uptempo guard. He's a tough guard, a hard-nosed defender, just a
player
. We're excited."
While critics and skeptics like to argue that Blazers coach Nate McMillan will never take his foot off the brake and allow the team's tempo to increase from dead last in the league, Matthews said Felton's arrival could allow the Blazers to push the ball a bit more, given the other pieces already in place.
"I think so," Matthews said when asked whether this could be the year the Blazers finally run more. "We have a lot of pieces. We have a lot of players that can do big things. LaMarcus [Aldridge], Ray, Nic [Batum], B. Roy still. Gerald Wallace. We've got people who can make plays. We drafted Nolan Smith, he's an up and down guy too."
Analysts generally see Matthews, along with Aldridge and Batum, as representing one of three potential core pieces for the Blazers moving forward. To get to the level where that trio can make deep playoff runs, Matthews will need to fill out his offensive game, improving his ability to create his own quality shot, finish in traffic, get to the free throw line and distribute the rock when necessary. He's spent some time this summer working on his offensive repertoire and decided to play at Impact to put that work to the test against live competition.
"I just want to showcase a little bit more," Matthews explained. "I think I did that today. It's one thing to be doing different moves and attacking the basket and doing more dribble moves or combination dribbles by yourself or with cones. But to do it and have success with it against other pros, it's a good feeling. An optimistic feeling."
While he might be a core piece, he has no interest in politicking for any particular upgrade to the roster: Matthews said the Blazers need to add "nothing" to become a contender and that they need to "just win." He also had no desire to comment on Portland's GM position, which remains open after two former GMs -- Kevin Pritchard and Rich Cho -- were fired in an 11-month timespan.
"I'm not an executive," Matthews said, smiling again. "I'm not paid to be an executive. I'm going to leave that out. They're just doing what they feel is best for the organization. The only thing I can do is worry about me getting better."
Ever since the lockout went into effect on July 1, though, every NBA player has had to become the "CEO of Me." Dozens have explored the overseas route, with many players signing lucrative deals in the event that the NBA and the National Basketball Players Association can't reach a deal. Matthews, who has a fully guaranteed contract that runs through 2014-2015, has expressed interest in playing overseas multiple times this summer. On Monday, he said that was still a possibility, but he made it sound like more of a last resort rather than an active pursuit.
"Yeah, it's in the cards but I hope I don't have to use it."

The threat of injury and the possibility that he could jeopardize his future earnings will not factor into his thought process.

"Can't think about stuff like that," Matthews said bluntly. "I risk myself every time I wake up. Get in the car and work out, it's a risk."
And, anyway, Matthews seemed to hint at some optimism that a new labor deal could be reached in the short term.
"It's getting closer to the season and it's more pressure on both sides to get a deal done," Matthews said. "No one [wants to lose] a season. Hopefully the sense of urgency continues to pick up, the talks keep getting better and we can get to camp."

Until camp, when or if it happens, Matthews will keep on keeping on, working to refine his game.

"I want to play basketball, that's why I'm out here right now," Matthews said finally. 'I'm a gym rat. If I hear the ball bouncing, I gotta go."

So here he came, to an industrial gymnasium in the shadow of the replica Eiffel Tower, near the splash zone of the Bellagio fountains.