Posted by Royce Young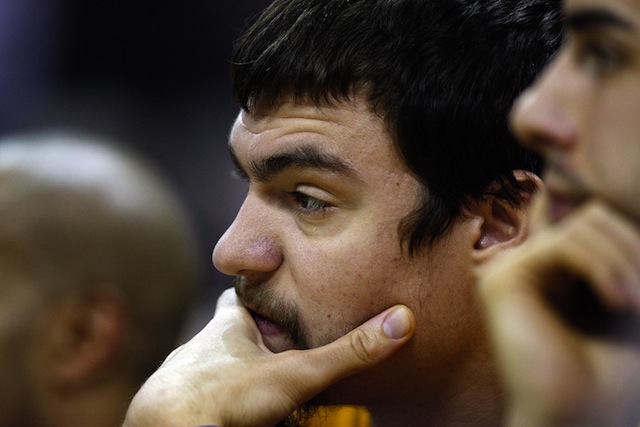 He very well may go down as the biggest bust in NBA history. But he'll also go down as a two-time NBA champion.
Such has been the odd career of Adam Morrison. A college superstar turned No. 3 overall draft pick, has now signed a deal to play for Red Star Belgrade in Serbia,
according to ESPN.com
.
Morrison's deal doesn't have NBA out, but really, does it even matter? The NBA came and went for Morrison seasons ago and he really was nothing more than a guy hanging on to a roster spot because of where he was picked. He wasn't an impact guy. Wasn't playing any minutes. And for all we know, wasn't even contributing much on the practice floor. I don't really think this deal was so much lockout inspired as it just is a career move for Morrison.
The question is: Can Morrison ever right the ship and return to the NBA? I want to say it's possible because of what he did at Gonzaga. We forget that in 2005-06, Morrison averaged 28.1 points a game, shot almost 43 percent from 3 and led the country in scoring. So when he was taken, yeah he was a bit of an awkward and strange swingman, but it's not like he didn't have ability. Did you know: Morrison actually scored 30 points in an NBA game? It's true. He did it in his rookie year against the
Pacers
.
Problem was, he couldn't learn to defend and couldn't figure out how to use his skillset to score in the NBA. Morrison really became like the worst version of Larry Bird you could imagine. He was The Basketball Jesus except without the actual playing and scoring and shooting and stuff. Because Morrison has always been able to shoot. He just never could get open.
And after a rocky rookie season where he didn't defend and shot just 37 percent, then a second season where he tore his ACL, Michael Jordan and the
Bobcats
pretty much gave up on him right then and there. I have to wonder: If they had committed to his development and worked him hard instead of just looking at him on one end and basically throwing in the towel, could he have been something? I mean,
Kevin Durant
was fairly awful defensively his first two seasons in the league and there was no doubt that he was going to lose his spot or anything. So why did Morrison fall into the doghouse?
So if it goes well for him in Serbia and he finds a little of his groove, could he return to the NBA and build the next great comeback story? Unlikely. But I'm not saying it can't happen. Like I said, he's got talent. He's got a heap of ability. He's just never come close to translating that to the NBA. Why? There are a lot of answers to that -- not athletic enough, didn't work hard enough, didn't understand how to fill a role -- but nothing ever makes a ton of sense for lottery busts. Unless you're
Greg Oden
. We get that.
Morrison wants the chance to finally play and get serious minutes. And that just wasn't happening on any NBA team. His reputation has been tarnished but that can be overcome. If he starts scoring again, someone will take notice. But right now, it feels like the Adam Morrison NBA experience has mercifully come to a close.