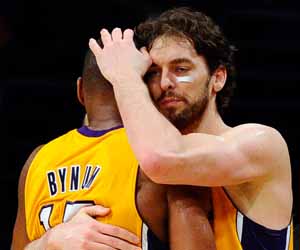 By Matt Moore
With no summer workouts, no summer league, no contact being players and coaches whatever, Mike Brown has entered the
Lakers
organization quietly. There's a lot of mystery. There will be defense, sure. But what's the offense going to look like? Will it be anything like the triangle that won five championships there? How will
Kobe Bryant
be used? Is there any chance of more touches for the big men? Turns out the answer to the last one is a big "yes." Brown sat down with the
Orange County Register
and had a conversation about his plans for the offense.
And whether you want to read a lot or a little into it, note this: When talking about the contrasting offensive styles Brown will show from Cleveland to here, the new Lakers' coach summarized the coming Lakers offense as feeding Gasol and Bynum inside, not being the Kobe show.

"This team is completely different from what I had in Cleveland," Brown said. "In Cleveland, I had a guy who liked to come off the top of the floor, liked to play in space and play pick-and-roll and make plays for others. Here, I've got two guys similar to what we had in San Antonio; you're able to throw them the ball on the block."
via
New Lakers coach Mike Brown: passion, positivity | brown, lakers, coach - Sports - The Orange County Register
.
Kobe Bryant had
a 35.1 percent usage rate
(percentage of possessions used) last season, compared to 21.8 percent for
Pau Gasol
and just 17.6 percent for
Andrew Bynum
. The last impression from the Lakers was that of Bryant playing well and the big men failing versus the
Mavericks
. But during the season, the narrative was quite different. If the Lakers had turned to Gasol and Bynum more during the regular season, not only would Kobe Bryant have had more energy, but they likely would have won more games and possibly gotten the top spot instead of the
Spurs
. Everything could have been different. But then, that's a hypothetical.
What is certain is that the Lakers are changing, and you're going to see more of a role for Andrew Bynum. He's no longer the young up and coming center. It's time to discover if he's worth the investment Jim Buss wants to make in him, or if the Lakers need to look for a different superstar of the future. Kobe Bryant will still be a huge part of the Lakers, all the way until he retires. But his role is shifting. How he handles that will be something to watch closely as the Lakers try and cash in for a third championship with this core.