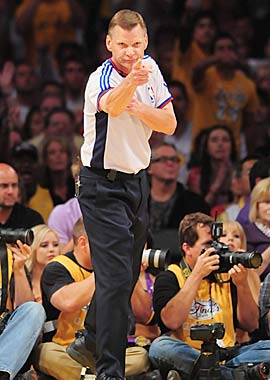 Posted by Royce Young


No more Mr. T. NBA official Steve Javie is retiring after 25 years calling games.
Via ESPN.com
, Javie is hanging up the black low-tops because of an arthritic right knee.
The knee caused Javie to miss the end of the 2009-10 season and he returned last year to comlpete his 25th season. Known as one of the best officials in the game, Javie has called 1,264 regular season, 190 playoff, and 18 NBA Finals games.
"I would like to stay at it and end it on my own terms, but in a way I feel as if I'm doing that in that I got to work that 25th year," Javie told ESPN.com. "Adrenaline is an amazing drug. The two weeks after the season, the knee was so painful I couldn't believe it. My doctor said it was because the adrenaline from the season had finally worn off. Every time I start to think maybe I still could do it, my knee has let me know, one way or another, that I can't."
Also retiring after 25 years is official Bob Delaney. He announced that before the start of last season.
This comes a day after the league and NBA referees agreed on a new five-year collective bargaining agreement.
Javie ad his run ins with players and even announcers and mascots over the years. He once famously ejected the Washington Bullets mascot "Hoops" during a dust-up over a call over Pervis Ellison and fellow ref Bill Spooner in 1990. A few years later he ejected
Trail Blazers
announcer Mike Rice for disputing calls from the broadcast table (I don't know who comes out looking the worst there). During the 2002-03 season, Javie picked up a $1,000 fine because of a verbal altercation with Pat Riley.
Javie also called Michael Jordan's final game in 2003.
Dropping two solid officials like Javie and Delaney is a bummer and it just means that you'll have to learn two new names to yell at your TV about. But don't worry though everybody: Dick Bavetta will be back for a 37th season.