Posted by Ben Golliver.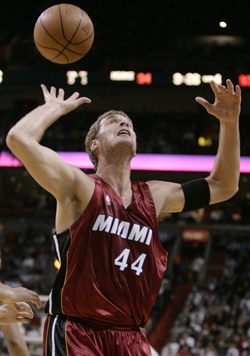 The iconic image of NBA journeyman Christian Laettner will always be of him running, arms above his head, joyfully celebrating a miracle last-second game-winner for Duke University in the NCAA tournament. These days, Laettner is still on the move, but it's because he has creditors and a federal judge chasing after him.
TwinCities.com reports
that Laettner and former Duke teammate Brian Davis were ordered to court on Friday by a judge so that the judge could determine whether the pair is capable of paying back money lent to them in a real estate development deal.
Former Timberwolves Christian Laettner and Brian Davis have been ordered to a Washington courtroom today to explain to a judge why they shouldn't be held in contempt. If their answers don't satisfy the judge, the former Duke University stars could be sent to jail - an outcome few could have predicted four years ago when they were basking in the success of their West Village development in downtown Durham, N.C.

Today's court hearing relates to a $671,309 judgment awarded to California investors J.D. Holdings in June. J.D. Holdings loaned Laettner and Davis' company, Blue Devil Ventures, $500,000 in November 2006 to develop property in Baltimore.

The motion asking the judge to find Laettner and Davis in contempt accuses the men of thumbing their noses at the judgment and ignoring requests to show whether they have assets to satisfy the judgment. It requests that Laettner and Davis be ordered to surrender to the U.S. Marshals office and remain locked up until they comply with the order.
The greatest scene in television history would be Walker, Texas Ranger arresting Laettner, wouldn't it? Preferably with a lasso after firing a warning shot in the air. This needs to happen.
NewsObserver.com reports
that Laettner did not respond to recent requests for comment and that he still possesses a valuable real estate development in Durhan, N.C.
Even now, as Laettner and Davis try to fend off angry creditors, West Village remains the jewel in their crumbling real estate empire. Its mixture of apartments, restaurants and offices continues to thrive, making it attractive to investors and to those angry creditors determined to pursue Laettner and Davis' assets.


Laettner and Davis have made it clear they are open to selling some, or all, of the remaining properties they own in West Village. But it remains to be seen whether the proceeds from those sales will be enough to cover the debt on the properties and repay the millions they owe creditors.
On Friday,
HeraldSun.com reported
that the judge ruled that Laettner and Davis were not in contempt of court and that the pair had two weeks to "disclose their assets and liabilities" to their creditor.
Well, not to spoil the ending, but it sounds like this one will end with Laettner being forced to sell off his property to make good on his debts. Boring old white collar crime.
Following a standout career at Duke, enjoyed a 13-year NBA career, playing for the Minnesota Timberwolves, Atlanta
Hawks
, Detroit
Pistons
, Dallas
Mavericks
, Washington
Wizards
and Miami
Heat
. Laettner averaged 12.8 points and 6.7 rebounds in 29.7 minutes per game for his career.
Basketball-Reference.com reports
that he earned more than $61 million in salary over his career despite failing to live up to expectations after being selected with the No. 3 pick in the 1992 NBA Draft.