Posted by Ben Golliver.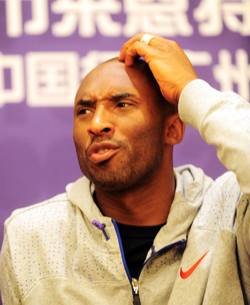 Summer has turned to fall without an NBA labor deal, but the story hasn't changed for Los Angeles
Lakers
All-Star guard
Kobe Bryant
.
The Associated Press reports
that Bryant is still saying he could play overseas if the ongoing NBA lockout results in a work stoppage.
The Los Angeles Lakers superstar told The Associated Press on the sidelines of a youth basketball clinic in Singapore that he didn't know if there will be a 2011-12 season and hasn't ruled out playing abroad.

"I could," Bryant said Saturday. "I'm playing abroad right now.''

Bryant said he may join informal workouts with Lakers teammates in the future, but that no such sessions have been scheduled yet.
Meanwhile,
the Los Angeles Times caught up
with National Basketball Players Association president
Derek Fisher
, who said he is in regular communication with Bryant regarding the negotiations with NBA and its owners.
"I talk to him regularly," said Fisher.

And, don't tell me, Bryant wants you to grind your teeth and bite your tie and bully the owners into submission?

"That would be a fair assessment," said Fisher.
That's no surprise, as Ken Berger of CBSSports.com reported that Bryant
addressed a group
of players in August, preaching solidarity.
We're inching closer to the date when the NBA preseason schedule will be compromised and, by extension, the date when every player who floated the possibility of playing overseas, including Bryant, will have his bluff called. It still makes zero sense for Bryant to risk injury and the future guaranteed dollars on his contract by competing professionally overseas. To sum this up, we're probably no closer to the day Bryant does suit up for an international team, but we might be getting closer to the day Bryant, and other NBA players in his situation, stop mentioning the possibility.