Posted by Ben Golliver.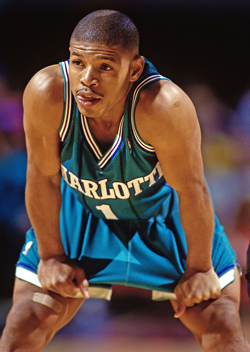 Three or four hundred million dollars will buy you an NBA franchise these days but that price tag only gets you the keys to the car, it doesn't include a good reputation. The fact is, most NBA owners are nameless and faceless to the players, known mostly as the guy who cuts the checks. In many cases, both the owners and players prefer it that way.
Not Dallas
Mavericks
owner Mark Cuban though. Cuban, a constant presence on the sideline and a man who even goes so far as to shooter jumpers on the court before games, embarked on a mission at the beginning of his ownership tenure to remake his franchise's reputation and to increase its desireability as a destination for players.
SlamOnline.com reports
that one year into his ownership tenure Cuban made an extremely generous gift to former player Muggsy Bogues, a man who is best known for being the shortest player in NBA history at 5-foot-3.
"I've never met Mr. Mark Cuban, but I tell people that I thank him more than life itself," Bogues, 46, said recently over the phone from his home in Charlotte. "I had three years left on my contract when my mom passed away, and I decided it was time to move on [from basketball]. I walked away from the game with three years left on my contract. He (Cuban) could have easily just have bought me out of my contract, but he went on and honored it and paid the three years out and never looked back."

Acquired by the Dallas Mavericks via a three-way trade in the summer of 2001, Bogues—bereaved over his mother's passing—never suited up in a single game for the Mavericks. Still, Cuban agreed to pay the 5-3 guard the complete balance of his contract. That amount came out to $3, 617, 400 over the course of the three years years remaining.
This story is even more touching when contrasted with the ongoing labor negotiations, in which owners are seeking to reduce the size and length of guaranteed contracts so they can avoid getting stuck playing extra salary after players pass their prime or are limited by injuries.
Whether Cuban decided to pay this money purely out of the goodness of his heart or because he was seeking to define who he would be as a player-friendly owner, the move was indisputably unconventional. And that's always been Cuban's genius. Doing things differently -- often better -- to carve a niche for himself and his franchise.
Of course, this move also looks a lot better now that Cuban won his franchise's first NBA title in 2011. What might have been perceived as an emotional decision or a dangerous precedent simply looks like an incredibly rare and benevolent act that helped vault Dallas, a perennial also-ran until Cuban arrived, into the conversation of best places to play.
Hat tip: Ball Don't Lie