Posted by Royce Young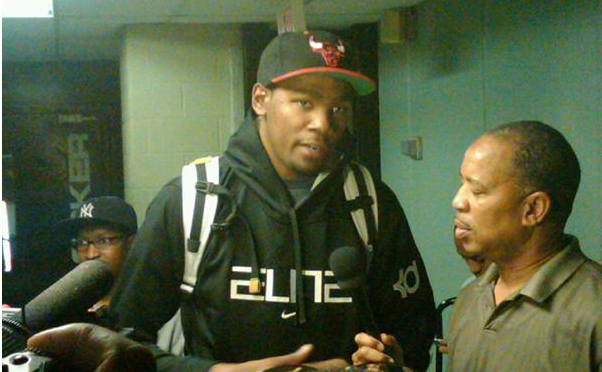 Is this news? Is this a big deal? Should we really care about this? Absolutely no on all accounts.
But... I couldn't help but wonder when I saw that picture whether or not we'd be making a big deal if that were say
LeBron James
wearing a
Knicks
hat. Or
Chris Paul
wearing a
Heat
hat. Or
Dwight Howard
wearing a
Lakers
hat. Or
Kobe Bryant
wearing a
Timberwolves
hat. (Yeah, I know that would never, ever happen, but it's funny to picture.)
Obviously, we'd be making a pretty huge deal if any of those guys did that. With LeBron, just because
anything
he does is a big deal. With CP3 because of his uncertain future in New Orleans. Same thing with Howard in Orlando. And Kobe just because that type of thing would never happen.
But it makes me wonder if this isn't a big deal just because it's the iron-clad, bulletproof Durant doing it or because it truly isn't a big deal. I mean, we all freaked over LeBron wearing a Yankees hat and while I realize that was under much different circumstances, it was still a story, while this definitely is not.
I can't really decide why though. It's probably just because we haven't reached a point with Durant where we freak over things. Not because he isn't a superstar, but just that we don't obsess over the minutia of his every little thing he does. Unless it's tattoos, of course
Durant is locked up with the
Thunder
through 2016 with the Thunder so it's not like he could actually go to the
Bulls
or anything. So forget that angle. Maybe he was just wearing it because the Thunder's logo isn't anywhere near as cool as the Bulls. That's what I'm thinking.
Via @MrMichaelLee