Posted by Ben Golliver.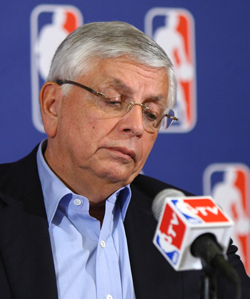 Until we are able to write the words, "NBA commissioner David Stern has announced a new labor agreement with the National Basketball Players Association," the words "David Stern" are pretty much a profanity for professional basketball fans who are growing increasingly impatient with the ongoing lockout.
But
the Los Angeles Times points out
that there are worse alternatives. Indeed, after consulting with sports business experts, the paper concludes that all the readily available alternatives -- NFL's Roger Goodell, MLB's Bud Selig, NHL's Gary Bettman, and MLS's Don Garber among them -- are arguably worse than Stern, who has held the NBA's head post since 1984.
The assignment: rank the best current commissioners in sports, factoring in various economic, labor and field-of-play issues. The consensus of several sports business experts was that Stern is No. 1, though with an asterisk because of the labor dispute that led him to lock players out on July 1.

"At the collegiate level right now, no one's killing it like Larry Scott is. To do what he has done with the Pac-12 is astounding," said Scott Rosner, associate director of Wharton Sports Business initiative at the University of Pennsylvania. "Track record, though, I think you have to give it to David.

"To think about where this sport was when he took over in the early '80s, so many teams losing money — the majority of the teams losing money — the Finals were on tape delay in many markets across the country, and David has brought that league to where it is. That said, if you're grading on the latest semester his grade wouldn't be as strong, obviously, with the lockout. And this is in many respects important to his legacy, but my sense is when all is said and done that the owners will score a pretty major victory."
Nothing says "trying way too hard to get quoted in the
Los Angeles Times
" quite like an Ivy League business school professor using the words "killing it" in an analysis of a major sports executive's track record. Surfs up, Mr. Rosner. Maybe try rapping a few bars from "California Love" in your next interview.
Palm trees aside, the analysis goes on to make another key point: the best measure of a commissioner's success is the increase of league's average franchise value during his tenure. By virtue of stewarding the NBA's explosive international growth through the Michael Jordan and Yao Ming eras, Stern wins that one hands down.
Perspective is a good thing during a tense labor negotiation. When you think about it, Stern's popularity will likely never be lower than it is right now. He's already made it clear this is his last labor negotiation and, assuming it eventually resolves in a positive manner, he'll be free to enjoy retirement from a pedastal, remembered as one of the most important's figures in the game's development.
Come on, commissioner Stern: just get a deal done and an overwhelmingly positive legacy is yours! (Was that begging too transparent?)