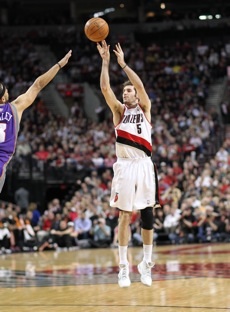 By Matt Moore


From the Associated Press:
Dallas Mavericks forward Rudy Fernandez has signed with Real Madrid's basketball team during the NBA lockout.

Madrid says Fernandez has agreed to play in Spain during the labor negotiations. The deal includes an option for Fernandez to play with Madrid once his contract with the NBA champions ends.
Fernandez has flirted with playing overseas for years, particularly at the start of last season after being unhappy with his role in Portland. This deal itself has been percolating the last few weeks. But since being traded to the champion Mavericks (who need a healthy wing with Caron Butler just now getting back on the court), Fernandez has been adamant that he intends to finish his contract in the NBA before even considering a return overseas. With the option to return, the most likely scenario is Fernandez plays one year with the Mavericks, then takes off to return to Real Madrid. ESPN Dallas notes that this might not be the worst case scenario for the Mavericks, who have two talented wings still developing.
Should Fernandez return to Spain after the season, the Mavs should be ready to replace him with either of their two young players for the 2012-13 season. And if Beaubois and Jones don't pan out -- which would be disappointing -- Fernandez will go down as nothing more than a low-cost gamble that should be sufficiently replaceable in next summer's free-agent market.

Who knows, a year from now the Mavs might not even want him back.
via
If Rudy Fernandez is one-and-done, so be it - Dallas Mavericks Blog - ESPN Dallas
.
So the defending NBA champs traded for a versatile, athletic wing with range for cheap who won't complicate matters if he doesn't work out and have the depth behind him to compensate. Man, it's good to be Dallas right now. You know, if we have a season and all.