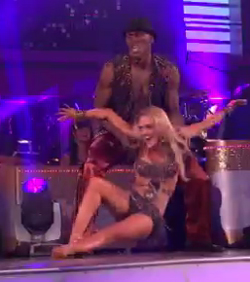 Posted by Royce Young
After failing to impress with his opening night cha-cha
, Metta World Peace's run on "Dancing With The Stars" is over almost as quickly as it began.
CBSSports.com's Ken Berger's tweet last night summed it up pretty well
: "Butchering the cha cha, hitting on Brooke Burke, and looking overweight.
Ron Artest
did himself no favors." Can't imagine why he was voted off.
Artest scored a total of 14 points out of a possible 30 for his cha-cha, which was the lowest of the 12 contestants. Judge Carrie Ann Inaba called Artest's performance "eccentric, yet kind of sexy" but Len Goodman remarked Artest's dancing was just "shimmying about" and "all sizzle and no sausage." I don't even want to know what that means.
He definitely wasn't a favorite, but athletes have fared pretty well on the show in the past. Kurt Warner was a finalist and Emmitt Smith, Hines Ward and Apollo Anton Ohno all won. Artest though, didn't even make it past the first week.
Then again, the bright side: We're spared having to a) report on this and b) watch Artest shake and shimmy around while wearing leather chaps and a vest with no shirt on underneath. Even though Artest lost, I think we're all winners.
I'm going to choose to believe this was a conspiracy because the NBA season is about to start and Artest needs to have time to get ready for training camps. I mean, how else do you explain him being the first to go, especially when you consider Nancy Grace was also a contenstant?