Posted by Ben Golliver.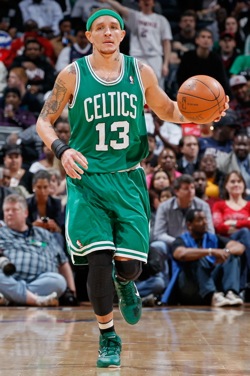 One of the NBA's strangest incidents in recent memory came when free agent guard
Delonte West
, most recently of the Boston
Celtics
but then a member of the Cleveland
Cavaliers
, was arrested while riding a motorcycle with multiple loaded weapons in September 2009. West, who suffers from bipolar disorder, was suspended 10 games for the incident.
At the time, this was a classic "What the heck really happened?" story. West has remained mostly tight-lipped regarding the incident but he recently
opened up to Slam Magazine
.
In his version of the story, West says he had taken his bipolar disorder medication and was preparing to sleep when he was interrupted by his friends waving the guns around in the basement music studio.
Gassed up from the commotion, West decided it would be prudent for him to relocate the guns to an empty house he owned nearby. So, with his other vehicles blocked in by guests' cars, and expecting it to be a short trip, he haphazardly loaded up his Can-Am and placed the weapons in a Velcro-type of bag—"not a desperado, hardcase, gun-shooting-out-the-side type case"—and set off.


"I'm on the Beltway, cruisin'," West says, voice high, emotional and inimitable. "Soon I start realizing I'm dozing in and out. I open my eyes and I went from this lane to that. I'm swervin', and by the time I wake up, I'm about three exits past my exit.

"There's this truck flying beside me—" West pauses; this next part is crucial—"and I'm scared to death. So I seen an officer coming up and I try to flag him down. I pull up next to him. He slows down and I get up in front of him. I tell the officer I'm not functioning well and I'm transporting weapons… The rest of the story is what it is.

"I'm not proud of it," concludes West, "but it looks way worse than it was."
Not really. West's explanation doesn't take the edge off at all.
Grown men horsing around with firearms in a house with children present without the gun owner's knowledge? Operating a motor vehicle while under the effects of strong prescription medication? Operating a motor vehicle while transporting firearms while under the effects of strong prescription medication? That's plenty bad.