Posted by
Ben Golliver.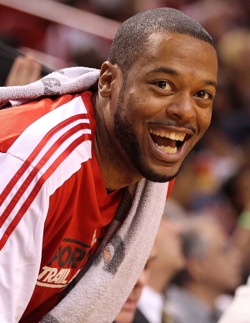 Portland
Trail Blazers
centers have been cursed with joint problems for years now. Not this type of joint, though.
Marcus Camby
has been an invaluable fill-in when fellow centers
Greg Oden
,
Joel Przybilla
and Jeff Pendergraph have gone down with knee injuries in the last 18 months. On Monday,
YourHoustonNews.com reports
that Camby was caught with "marijuana cigarettes" in Texas while driving under suspicious circumstances.
Two-time NBA all-star Marcus Camby, 37, of the Portland Trail Blazers, was arrested by Pearland police Monday and charged with marijuana possession.

Police officials say officers pulled over Camby's black Porsche around midnight on when he was spotted driving north on Cullen Boulevard with a sun screen device blocking the front window.

Officers then questioned Camby and a passenger, later identified as Kendal Lance Johnson, 25. Officers say they noticed the smell of marijuana. Camby gave permission for the car to be searched and police said they discovered what appeared to be several marijuana cigarettes and a baggie with a small amount of the same substance hidden under the front seat. Both suspects denied ownership of the marijuana.
Camby was reportedly charged with a class A misdemeanor and released on bond. He could face a fine or, potentially, jail time.
A trusted veteran voice and once one of the league's top rebounders and defensive specialists, Camby averaged 4.7 points, 10.3 rebounds and 1.6 blocks in 26.1 minutes per game last season. Camby, 37, is entering the final year of a two-year contract extension that will pay him $11.2 million in 2011-2012.