Posted by
Ben Golliver.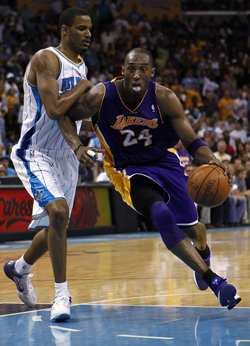 There's a new leader in the clubhouse, and it should come as no surprise that it's Los Angeles
Lakers
guard
Kobe Bryant
.
The Associated Press reports
that Bryant, the NBA's highest-paid player, has been offered a $6.7 million contract to play for Virtus Bologna of the Italian Serie A basketball league for a season. That figure is the largest reported offer made to an NBA player during the ongoing NBA lockout.
The Los Angeles Lakers superstar spent part of his youth in Italy while his father played there. He speaks Italian, prompting Bologna to hope he might return if there's an NBA lockout.

Virtus Bologna general manager Massimo Faraoni tells The Associated Press he's been on conference calls between Bryant's agent, Rob Pelinka, Bologna president Claudio Sabatini and main sponsor Canadian Solar, which would provide the cash for such a deal.

"I think the fact that he's lived in Italy makes this appealing to him," Faraoni said.

Virtus has given Bryant four different contract options, stretching from the one-year deal to two-month and one-month options, and a per-game deal that would come out to $739,640 per home game.

Bryant's father, Joe "Jellybean" Bryant, played in Italy with Rieti, Reggio Calabria, Pistoia and Reggiana from 1984-1991. The elder Bryant now coaches the Los Angeles Sparks in the WNBA.
This offer, like
previously reported short-term offers from Virtus Bologna
, includes an opt-out clause should the NBA finally reach a new labor agreement with the National Basketball Players Association.
The size of this offer trumps deals given to New Jersey
Nets
All-Star point guard
Deron Williams
, who signed a deal that
reportedly could pay him up to $5 million
to play for Besiktas of Turkey, and free agent forward
Kenyon Martin
, who
recently signed
a Chinese Basketball Association record deal totalling $3 million to play in China for Xingiang Guanghui. Bryant has previously received reported offers or interest from Besiktas and China but those offers were not as clear and firm as this offer appears to be.
By comparison, the $6.7 million on the table from Virtus Bologna equates to 26.7 percent of what he was set to be paid by the Lakers next season. Bryant was set to make an NBA-high $25.2 million during the 2011-2012 NBA season and is scheduled to make $27.8 million in 2012-2013 and $30.5 million in 2013-2014.