Posted by
Ben Golliver.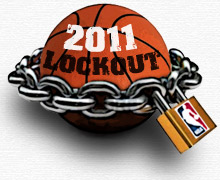 On Friday, the NBA
officially postponed
the start of its preseason schedule. With that first ugly step now taken, the question becomes how many more similar announcements are coming down the pipeline?
The next two major decisions, chronologically, will be the cancellation of the rest of the preseason and the delay of the regular season. Past that, the next major event on the NBA calendar is the league's annual All-Star Game, slated to be held at Orlando's Amway Center in late February.
The Orlando Sentinel looked back
at the NBA's last work stoppage, during the 1998-1999 season, to pinpoint a possible deadline date for the league's mid-winter classic.
In the last lockout, the league cancelled the Feb. 14 1999 all-star game scheduled in Philadelphia on Dec. 9, 1998. This year's game is set a little later — Feb. 26 at the Amway Center in downtown Orlando. So it could be that if this lockout continues, eating up regular-season games, the league likely will cancel Orlando's game around Dec. 15.
NBA commissioner David Stern has
reportedly pledged
to bring the All-Star Game back to Orlando should next season's game be compromised.