Posted by
Ben Golliver.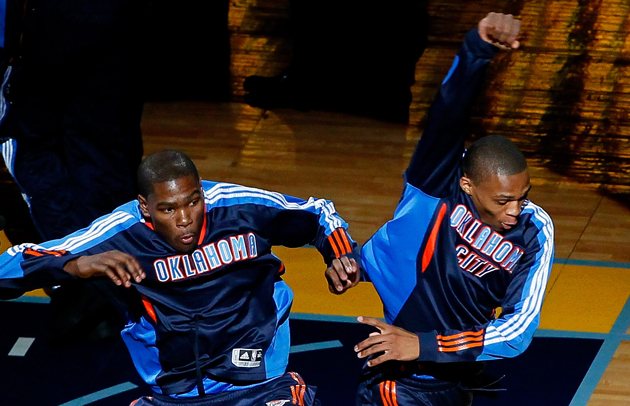 The Oklahoma City
Thunder
boast such an immaculately constructed roster and had such a magical run to the Western Conference Finals that it all feels a little
too
perfect sometimes.
The feeling that "there must be something wrong underneath the surface" really began percolating when the Thunder struggled to dispatch the Memphis
Grizzlies
and collapsed multiple times down the stretch in games against the eventual NBA champion Dallas
Mavericks
. The situation wound up being painted by some as "Kevin Durant vs.
Russell Westbrook
," as the Thunder's All-Star guard often found himself taking shots he probably shouldn't have taken while the league's scoring champion watched the action unfold from the perimeter.
The consensus was that Durant emerged as the aggrieved party, the talented scorer who simply couldn't get enough touches because of Westbrook's ferocious, score-first, pass-later focus.
Durant looked to clear up that perception in
extended comments made to Yahoo Sports
.
"We butt heads just like any other players because we are both competitive, we both want to go at it, we both have ideas," Durant said in a phone interview with Yahoo! Sports on Saturday while on the movie set of his upcoming Warner Bros. film, "Switch." "That's going to happen. But I support him 100 percent. Of course, I hated when people were saying the stuff they were saying, and he hated it as well. I didn't want it to get to his head. I hate when people try to creep into the group and try to break things up.


"I don't want any other point guard," Durant said. "He's perfect for us, the type of guy he is, the type of player he is, the type of teammate he is. We're all competitive, especially me and him. We get the best of each other in practice every day, and we want to go at each other and make each other better. We are going to have disagreements. That's what all good players on good teams do."
A public relations professional couldn't have scripted a better statement from Durant. Importantly, he begins by acknowledging the negative perception and admits that things aren't totally hunky-dory. That's big because it establishes credibility and implies a level of honesty in his later comments. He goes on to back Westbrook with more than the usual lip service, heaping praise, pointing to specific strengths and crediting his teammate for his own development. In doing so, he flips the line of criticism that Westbrook is standing in Durant's path to greatness on its head.

When it comes to teammate conflicts, both minor and major, actions always speak much louder than words. But, here, Durant spoke in perfect pitch.