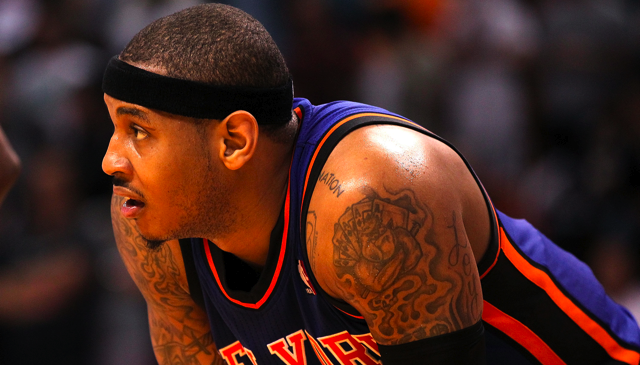 By Matt Moore
An observation that's been making the rounds this summer regarding
Carmelo Anthony
in his appearances at the lockout summer exhibitions has been that Anthony appears to be a bit out of shape. He hasn't gone Shawn Kemp '99 or anything, he's just looked a bit heavy. There might be an actual reasonable excuse for that according to the
New York Post
. The Post was part of a group of reporters to speak with Carmelo Anthony after he went ham at the Baltimore vs. Philly exhibition Sunday night, and the
Knicks
superstar revealed that in May, he had two surgeries, one on his knee and one on his elbow. From the
Post
:
The Knicks forward revealed more elements to his mysterious offseason, disclosing last night he had knee and elbow surgery simultaneously in May. Anthony disclosed the surgeries after playing 48 minutes and dropping 31 points with 17 rebounds last night at the sweaty Palestra in a lockout-inspired barnstorming-tour loss.

The Knicks never announced the procedures. Anthony said he had arthroscopic surgery on the left knee and an elbow procedure, as he suffers from chronic bursitis.

"Can't tell, can you?" Anthony said after his rugged performance.

Anthony said it was the first time in his life he's had surgery.

"I did both of them," Anthony said. "They were bothering me seven years."
via
Knicks' Anthony had two surgeries in May - NYPOST.com
.
Well, then.
Suprise, Knicks fans! Your superstar forward who's considered the healthy one of their two cornerstones had two surgeries after the playoffs were over, and your team just neglected to mention it. Woo!
This isn't a big deal, in reality. The elbow bursitis is a nag, but obviously something Melo can play through. The knee surgery is routine and something nearly every player has at one point or another in his career. Considering this is his first surgery after as many minutes as he's played, it's a wonder it wasn't necessary first. And while it would be great for Anthony to have had Knicks' medical staff around after July 1st to watch over him, he was likely in consult with them before the lockout began and under his own doctor's care after.
Additionally,
Alan Hahn reports
that Anthony says he is lighter, not heavier, so any discussion of his roundness may be moot. Beyond all this medical and conditioning discussion, Anthony dropped 31-17 in a game Sunday night. So yeah, not like he's struggling to stay sharp on the floor. t