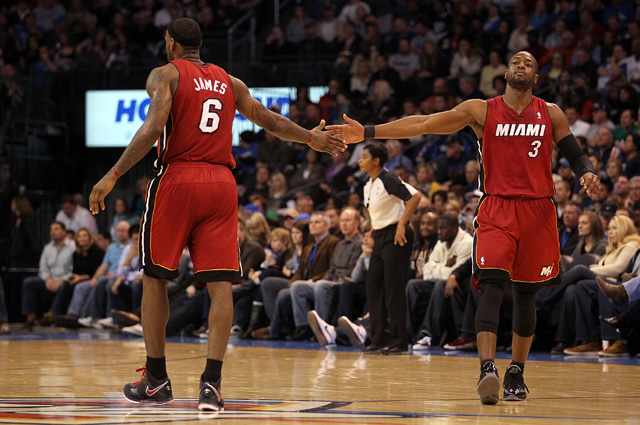 By Matt Moore
The
Heat
players have kept a low profile in the lockout.
Chris Bosh
argued with Skip Bayless
.
LeBron James
has shown up for a few spontaneous appearances at the summer leagues (
and got dunked on by a Taiwanese player
).
Dwyane Wade
in particular has gone underground. But as usual, if there's a trend going on in the NBA, the Heat want to get in on it. The Triad will host a mega charity in south Florida next week, according to ESPN. James, Wade, and Bosh will all play, and the roster is unbelievably stacked, way more so than the other exhibitions that have been going on. From ESPN:
A number of NBA players are slated to join the Miami trio on the court, including fellow Heat teammate Mario Chalmers, the Oklahoma City Thunders Kevin Durant and Russell Westbrook, the New York Knicks Carmelo Anthony, Amare Stoudemire, the New Orleans Hornets Chris Paul, the Washington Wizards John Wall, the Atlanta Hawks Jamal Crawford, the Houston Rockets Jonny Flynn, the Los Angeles Clippers Eric Bledsoe, the Dallas Mavericks Caron Butler, the Memphis Grizzlies Rudy Gay, the Boston Celtics Rajon Rondo, the Philadelphia 76ers Lou Williams, the Golden State Warriors Dorell Wright, and the Portland Trail Blazers Wesley Matthews and free agent Eddy Curry.
via
Miami Heats LeBron James, Dwyane Wade, Chris Bosh to host The South Florida All-Star Classic - ESPN
.
That's nine All-Stars in the game. That's pretty unbelievable. And yet, that part is probably the least interesting. Here are the cliff notes on the eyebrow-raisers from the report:
The coaches for this event are actor comedian Kevin Hart and Rick Ross. Read that sentence again and let your mind explode.
The event features multiple members of both Brand Jordan and Nike, pitted against each other. Wall's appearance, though, singals the event was not put together by Nike, despite the obviousness of such a move.
Oh, they're playing in south Florida, huh? Where did they find an arena? Oh, at FIU. Well, that makes sense, since it's so close and.... "Oh My Gosh, that's Isiah Thomas' music!"
Eddy Curry continues to slouch closer and closer to joining the Heat. He's playing alongside the Triad in exhibitions. He's hanging out with them. It's only a matter of time. Did we mentione there's a report he's lost 100 lbs.? That's a person!
The interesting thing to watch will be who streams the event. SI streamed one of the city exhibitions the other day. The more these are held, the more media partners become interested.