Posted by
Ben Golliver.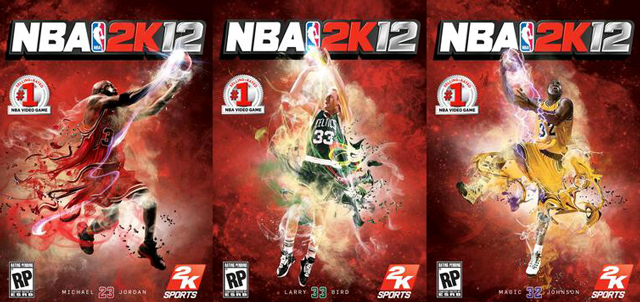 Player ratings for the popular basketball video game,
NBA 2K12
, continue to leak in advance of the game's Oct. 4 release.
A few weeks back, we noted
that Miami
Heat
All-Star forward
LeBron James
was poised to lead the league in overall ranking with a 98, topping Los Angeles
Lakers
All-Star guard
Kobe Bryant
, who checked in at 94.
Unofficially, just nine current NBA players check in with ratings at or above "90". All nine, including James and Bryant, were All-Stars last season. The others: Miami Heat guard
Dwyane Wade
, Orlando
Magic
center
Dwight Howard
, New Orleans
Hornets
guard
Chris Paul
, Oklahoma City
Thunder
forward
Kevin Durant
, Chicago
Bulls
guard
Derrick Rose
, New York
Knicks
forward
Carmelo Anthony
and New Jersey
Nets
guard
Deron Williams
.
A number of teams from the past are also included in the game. The 1992-1993 Chicago Bulls are included, led by Michael Jordan, who is rated a 99, and Scottie Pippen, who is rated a 90. Jordan also receives a 99 on the 1997-1998 iteration of the Bulls while he scores just a 92 on the 1985-1986 team.
An expanded list of player rankings has been
uploaded to YouTube by user NBA2K12stuff
. More rankings have been revealed or compiled by
PastaPadre.com
and
Examiner.com
.
Here's a compiled list of ratings for some star players from those sources. Remember: this year's rookie class is not included in the game.
LeBron James -- Miami Heat -- (98)
Dwyane Wade -- Miami Heat -- (96)
Kobe Bryant -- Los Angeles Lakers -- (94)
Dwight Howard -- Orlando Magic -- (93)
Chris Paul -- New Orleans Hornets -- (93)
Kevin Durant -- Oklahoma City Thunder -- (92)
Derrick Rose -- Chicago Bulls -- (92)
Carmelo Anthony -- New York Knicks -- (91)
Deron Williams -- New Jersey Nets -- (90)
Russell Westbrook
-- Oklahoma City Thunder -- (88)
Amar'e Stoudemire
-- New York Knicks -- (88)
Pau Gasol
-- Los Angeles Lakers -- (86)
Rudy Gay
-- Memphis
Grizzlies
-- (86)
Andre Iguodala
-- Philadelphia
76ers
--(85)
Blake Griffin
-- Los Angeles
Clippers
-- (85)
Dirk Nowitzki
-- Dallas
Mavericks
-- (85)
Manu Ginobili
-- San Antonio
Spurs
-- (85)
Rajon Rondo
-- Boston
Celtics
-- (85)
Tim Duncan
-- San Antonio Spurs -- (84)
Joe Johnson
-- Atlanta
Hawks
-- (84)
Josh Smith
-- Atlanta Hawks -- (84)
Steve Nash
-- Phoenix
Suns
-- (84)
Monta Ellis
-- Golden State
Warriors
-- (83)
Kevin Garnett
-- Boston Celtics -- (83)
Stephen Jackson
-- Milwaukee
Bucks
-- (83)
Gerald Wallace
-- Portland
Trail Blazers
-- (83)
LaMarcus Aldridge
-- Portland Trail Blazers -- (83)
Zach Randolph
-- Memphis Grizzlies -- (83)
Paul Pierce
-- Boston Celtics -- (82)
Eric Gordon
-- Los Angeles Clippers -- (82)
Joakim Noah
-- Chicago Bulls -- (82)
John Wall
-- Washington
Wizards
-- (82)
Kevin Love
-- Minnesota
Timberwolves
-- (81)
Al Jefferson
-- Utah
Jazz
-- (81)
Danny Granger
-- Indiana
Pacers
-- (81)
Chris Bosh
-- Miami Heat -- (80)
Tyreke Evans
-- Sacramento
Kings
-- (80)
Tony Parker
-- San Antonio Spurs -- (80)
Stephen Curry
-- Golden State Warriors -- (80)
Andrew Bynum
-- Los Angeles Lakers -- (79)
Hat tip: Welcome To Loud City